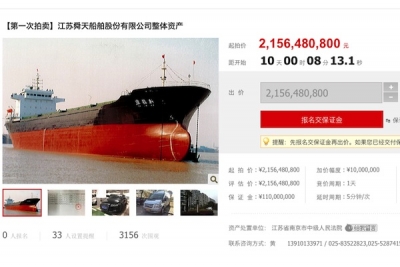 Financially-troubled Chinese shipbuilder Sainty Marine will hold an auction of its assets on Taobao, China's largest website for online shopping, following a local court order.
The Nanjing Intermediate People's Court announced that Sainty Marine's assets will be on sale from 16 April 1000 hours to 17 April 1000 hours at a starting bid price of RMB2.15bn ($331.9m).
The Chinese shipbuilder's assets include 12 vessels worth RMB250m, yard facilities, properties, cars, equipment, and debts.
Sainty Marine has been sued by its major creditor Bank of China's Nantong branch for a liquidation of its assets, and the shipyard has until 17 April to present a restructuring plan to the court.
The debt-ridden shipbuilder is facing a hosts of problems including cancellation of shipbuilding contracts by buyers, frozen bank accounts, resignation of key executives, suspension of shares trading, and unpaid debts.
In December last year, bankrupt Nantong Mingde Heavy Industry also resorted to auctioning its assets on Tabao at a starting bid price of RMB1.59bn, before lowering the price to RMB1.27bn in January this year when there were no buyers.
Sainty Marine had applied to help restructure compatriot Mingde but it is itself mired in financial difficulties to pull off the rescue deal. Mingde's biggest creditor is Sainty Marine and the two yards had collaborated over newbuilding contracts.