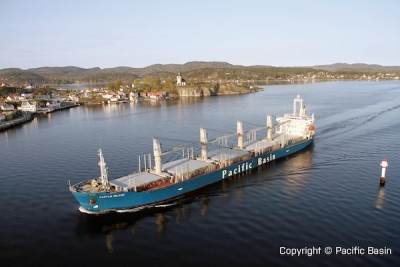 Hong Kong-based minor bulks specialist Pacific Basin Shipping continues to do what they do well and turned in first quarter average handysize and supramax TCE earnings of $5,900 and $5,800 per day, outperforming the relevant market indices the BHSI and BSI by 83% and 61% respectively.
But the fact remains that the market rates are at very low rates in the first place and at an average of $3,240 and $3,610 per day net for handysize and supramax respectively, represent a 27% and 34% decline on the previous quarter, and a 36% and 41% decline compared to the previous corresponding quarter in 2015.
Looking ahead, Pacific Basin said with the continued significant gap between newbuilding and secondhand prices, new ship ordering activity should remain muted, which will in turn lead to a reduction in the overall dry bulk orderbook. In addition, slippage remains high, and the company expects deliveries in the full year 2016 to be at a similar level to last year's 49m dwt.
Pacific Basin further noted that with freight earnings below operating expenses for many ship owners, shippers are concerned about counterparty risks, and financially exposed ship owners are increasingly struggling to find employment. This should benefit more established and well-run companies such as Pacific Basin.
Meanwhile, a significantly higher level of scrapping of 56m dwt on an annualized basis, seen in early 2016 has helped to reduce global dry bulk net fleet growth year-on-year which, if sustained, could lead to a net shrinkage of the global dry bulk fleet as early as this year Pacific Basin said.