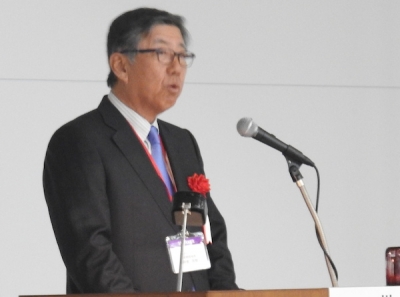 Kawasaki Kisen Kaisha (K Line) chairman Jiro Asakura says only those that can adapt to current market conditions will survive as the dry bulk shipping market goes through an "ice age".
Speaking at Sea Japan 2016 Asakura noted that both dry bulk and container freight rates were down and "we are struggling".
He described the dry bulk market as being at the "worst market levels" in 2015. However in 2016 the market was to get worse falling to an "inconceivable" levelwith the Baltic Dry Index falling to 290 points.
"There were unbelievable market conditions for several months. I never expected the market would fall to this level," Asakura said.
He compared the dry bulk market as having moved from winter to an ice age. "Without any proactive action we are going to be like the mammoth and go extinct."
Asakura believe that shipping companies have not choice but to change the way they do business.
"The current existing framework is beginning to change. Only those who can adapt will survive. This will be the ticket to compete in the next round," he stated.
The rapid fluctuations in the container shipping market also call for quick reactions by management, and he noted that "all of a sudden your management plan could become meaningless" due to changes in the market.
"You need to be ready to change your policies and so does senior management," Asakura said.
Owners were called up to lay-up, idle and scrap vessels, while from the shipyard side the supply of newbuildings needed to be surpressed.
While the dry bulk market dropped to its lowest ever level this year Asakura is now seeing signs that the market is turning. "The market is starting to regain confidence, improvement is underway."
He saw sentiment as a major factor saying, "A train reaction to pessimism does lead to anything."
Looking towards the end of the year he noted the oil price had been predicted to recover to $50 per barrel and based on history iron ore and coal should start to recover as well, meaning that shipping could also start to recover.
"So February 2016 this year would be the start of the recovery of the dry bulk market," Asakura concluded.