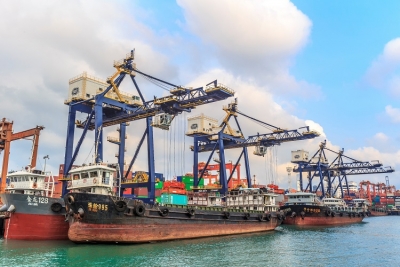 Despite the slow and inexorable decline in throughput at the Port of Hong Kong, leading operator Hongkong International Terminals (HIT) continues to do well, posing the largest accumulative barge throughput in the Pearl River Delta of 2m teu in 2015.
The company said in a press release that it also set a new handling record of 120 barges and 6,414 moves in a single day, thus reaffirming its position as a leading transshipment hub in South China for Pearl River Delta cargoes.
HIT has demonstrated its commitment to the trade, being the only terminal operator in South China that deploys four barge quay cranes (BQCs) to enhance barge operational efficiency.
With 2 BQCs working simultaneously, rather than having just one crane in action, productivity has jumped to 23 moves per hour and barge turnaround time has been greatly reduced by 50%, HIT said. In addition, close cooperation between HIT and barge operators has improved barge efficiency and barge appointment success rate by 20% and 16% respectively in 2015.
HIT md Gerry Yim said: "We will continue to dedicate resources to equipment upgrades to further strengthen our regional competitiveness. At the same time we will work with stakeholders in expanding our network coverage in the Pearl River Delta so as to strengthen our status as a key port of call for barges and shipping lines."
Yim also pointed out that HIT has been actively formulating thorough plans in response to global economic uncertainty and the impact of slow economic growth in South China. This preparedness will allow the company to confidently meet new challenges while it continues to benefit from Hong Kong's free trade policies and the mainland's cabotage rules.