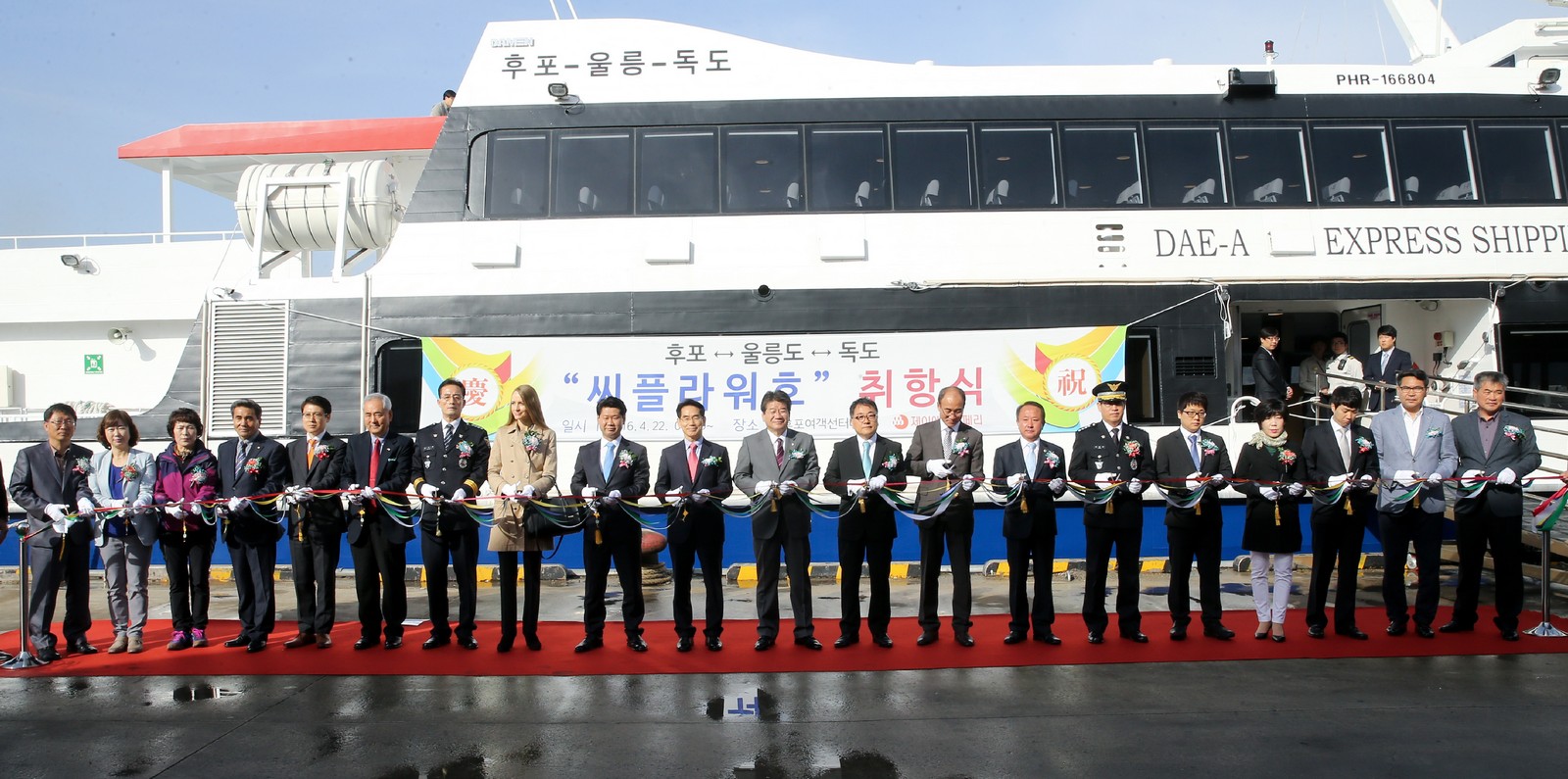 Damen Shipyards Group has sold a Fast Ferry 4212 to South Korean ferry operator DAEA Express Shipping. The vessel, named Sea Flower, is the fourth ferry of this design that Damen has sold in the last five years to companies operating on the east coast of the Korean peninsula.
With the contract for construction between Damen and DAEA signed in January 2016, the Sea Flower was handed over on 22 April during a ceremony in the vessel's home port of Hupo. The ceremony was attended by a large delegation of local and regional officials as well as the Deputy Head of Mission at the Netherlands Embassy in South Korea, Ruth Emmerink.
After the traditional ribbon cutting, the 42-metre long vessel set sail on her maiden voyage to Ulleungdo, one of South Korea's easternmost territories and also a very popular tourist destination. "We are proud to see this vessel, with her capacity of 450 passengers, contribute to the safe, reliable and comfortable transport to and from the island of Ulleungdo. This will have a positive boost on the local tourist sector," says Damen Sales Manager Asia Pacific Michiel Hendrikx.
Meeting DAEA's strict schedule for the completion of the contract to ensure commencement of operations on the Hupo-Ulleungdo route in time for the start of the tourist season, Damen completed the vessel on time. "This type of ferry is part of our speculative building programme, the benefits of which are seen when working to such tight deadlines."
"This was one of our stock vessels so we could finish it to the client's specifications, delivering it where and when they needed it, in a very short time frame. The final outfitting typically involves interior layout and design: the number and configuration of passenger seats, for example, are all flexible. The colour scheme, too, is also very important – incorporating a client's personal touch."
The Damen Fast Ferry (DFFe) 4212 is usually built to Bureau Veritas standards. Vessels sailing under the South Korean flag, however, are required to be classified by the Korean Register of Shipping. Damen worked closely with DAEA on this aspect to achieve the smoothest possible transfer of documentation and inspection information. "We also carried out some slight modifications to ensure compliance with the stringent safety and operational requirements of the Korean flag," Mr Hendrikx continues.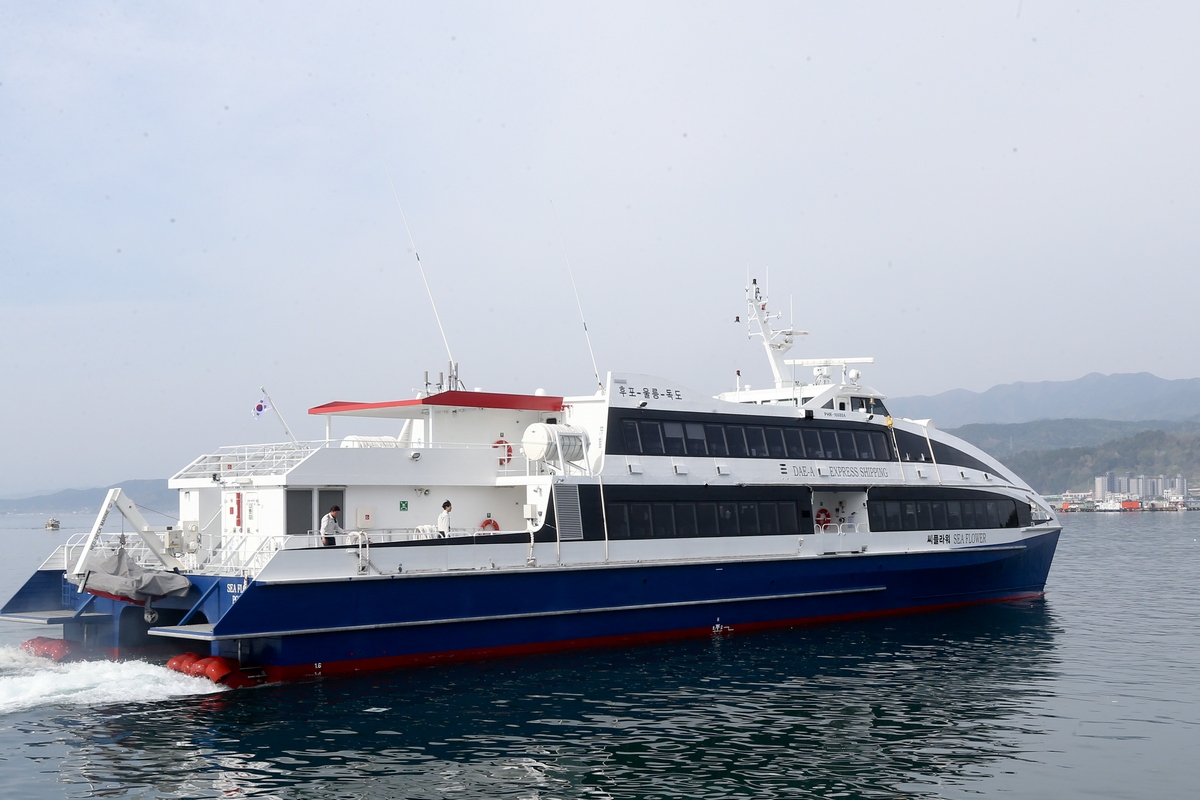 The Sea Flower represents Damen's first vessel sold to DAEA Express Shipping, a company with a long history of ferry operations around the Korean Peninsula. "It has been a pleasure to work with DAEA. Our track record with similar vessels, short delivery times and excellent service network in South Korea all played an important role in winning this contract. We are looking forward to serving them in future."
Damen is continuing its speculative building strategy for this ferry design: "We are currently building two further DFFe 4212 vessels – they will be ready at the beginning of 2017," concludes Mr Hendrikx.
Damen Shipyards Group
Damen Shipyards Group operates 32 shipbuilding and repair yards, employing 9,000 people worldwide. Damen has delivered more than 6,000 vessels in more than 100 countries and delivers some 180 vessels annually to customers worldwide. Based on its unique, standardised ship-design concept Damen is able to guarantee consistent quality.
Damen's focus on standardisation, modular construction and keeping vessels in stock leads to short delivery times, low 'total cost of ownership', high resale values and reliable performance. Furthermore, Damen vessels are based on thorough R&D and proven technology.
Damen offers a wide range of products, including tugs, workboats, naval and patrol vessels, high speed craft, cargo vessels, dredgers, vessels for the offshore industry, ferries, pontoons and superyachts.
For nearly all vessel types Damen offers a broad range of services, including maintenance, spare parts delivery, training and the transfer of (shipbuilding) know-how. Damen also offers a variety of marine components, such as nozzles, rudders, anchors, anchor chains and steel works.
In addition to ship design and shipbuilding, Damen Shiprepair & Conversion has a worldwide network of 15 repair and conversion yards with dry docks ranging up to 420 x 80 metres. Conversion projects range from adapting vessels to today's requirements and regulations to the complete conversion of large offshore structures. DSC completes around 1,500 repair and maintenance jobs annually.