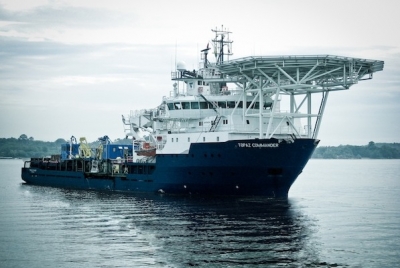 Dubai's Topaz Energy and Marine rode adverse first-quarter market conditions to eke out a small EBITDA-margin and profits increase, amid growing pressure on rates and weak global oil prices.
EBITDA margin was up 4.8 percentage points to 51% as revenues fell 9% to $78m on the same period last year. Profits rose 82% to $2m for the period, a net profit margin of 2.6%.
Although core vessel utilisation slipped 9 percentage points to 75%, Topaz signed long-term contracts with BP in February 2016 for 14 vessels in Azerbaijan and a $350m contract with Chevron-led TengizChevroil in Kazakhstan, to construct, supply and operate 15 vessels for at least three years.
The firm said the two contracts brought Topaz's backlog to US$1.6bn, and added that it was in full compliance with its banking covenants.
Topaz added two new vessels in the period, the AHTSV Topaz Mamlaka, deployed in February on long-term contract with Saudi Aramco, and the MPSV Topaz Resolve.
Four vessels are under mobilisation to Russia to pursue better long-term opportunities, the firm said.
"We delivered a strong performance to start the year, achieving a robust EBITDA in a competitive market," said Topaz ceo, René Kofod-Olsen.
"However lower demand in our African and Mena businesses due to the protracted low oil-price environment put pressure on our rates and our financial results this quarter."
Topaz operates a fleet of around 100 OSVs with an average age of seven years. It is a subsidiary of Renaissance Services SAOG, a publicly traded company on the Muscat Securities Market, Oman.
Kofod-Olsen said revenues fell on increasing competition which was putting downward pressure on rates and affecting utilization in Mena and its nascent business in Africa.
However, in Azerbaijan, only one of 23 vessels was currently not contracted, for utilization of 95%.
"We expect to deliver a robust performance in the Caspian throughout 2016, supported by our strong relationships with oil majors and our ability to remain competitive in a lower oil price environment.