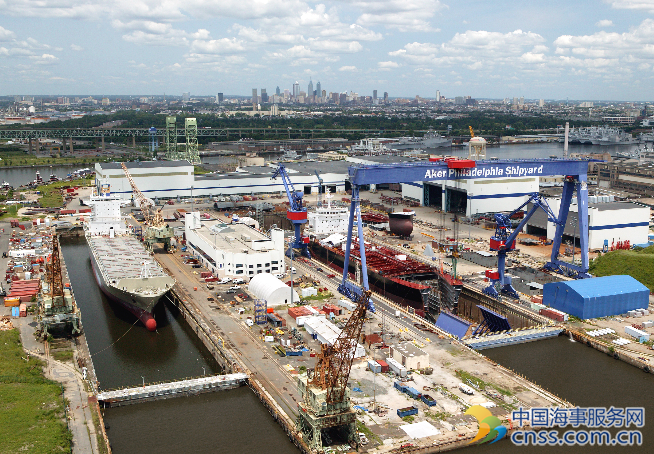 US-based Philly Shipyard has entered into a definitive loan agreement with Caterpillar Financial Services Corporation (Cat Financial) for a USD 150 million loan facility to finance the construction of four product tankers being built for Philly Tankers LLC.
The conclusion of the financing follows a letter of commitment signed with Cat Financial in December 2015.
Under the agreed terms, the facility is subject to a maximum borrowing amount of USD 75 million per vessel and secured by a first lien on the four vessels. The loans under this facility will accrue interest at three-month LIBOR plus 3.00%.
"This facility is a continuation of the extensive cooperation between Philly Shipyard and Cat Financial that now includes a total of 26 vessels, including both product tankers and containerships, and will span a period of 15 years when Hull 028 is delivered in 2017," the company said in an exchange filing.
Philly Tankers LLC sold the contracts for the four ships to American Petroleum Tankers (APT), a subsidiary of Kinder Morgan, in August 2015 for a total of USD 568 million.
Hence, each of the four contracts will be assigned by Philly Tankers LLC to the Kinder Morgan entity immediately prior to delivery of the relevant vessel. The vessels are planned to be delivered between November 2016 and November 2017.
The construction on the first two ships from the batch seems to be running according to schedule as the yard laid the keel of the second product tanker for APT just last week. The keel for the first vessel from the series was laid in January this year.
All four Tier II 50,000 dwt product tankers are based on a Hyundai Mipo Dockyards (HMD) design. They will be constructed with consideration for the use of LNG for propulsion.
Also under construction at the shipyard is one 50,000 dwt product tanker for Crowley Maritime Corporation with a planned delivery during Q3 2016 and two 3,600 TEU containerships for Matson Navigation Company, Inc. with planned deliveries in Q3 2018 and Q1 2019.