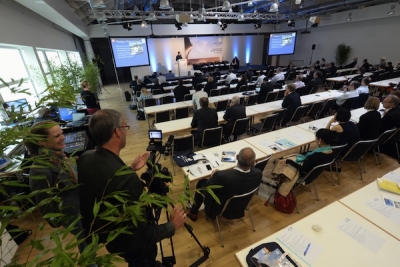 Leading executives and officials will be addressing the "big" issues facing shipping at gmec, the global maritime environmental congress at SMM 2016 in September.
The congress, which is themed around "Big data, big changes, big challenges", will feature a keynote address by Arsenio A. Dominguez 
chairman of the IMO Marine Environment Protection Committee.
Dominguez will also take part in the first panel session - "Harmful air emissions - Managing the disconnect between compliance and technology" – along with Lloyd's Register executive vice president Tom Boardley and David Dingle ceo of Carnival.
The second session moves into the highly topical area of "Big data – smart shipping and the environment". Panelists include Ronald Spithout, president of Inmarsat Maritime, which is leading the way enabling big data at sea with its recently launched Fleet Xpress service, and shipping industry guru and smart shipping advocate Martin Stopford, president of Clarksons Research Services.
They are joined by Oskar Levander, vice-president innovation for Rolls Royce Marine and Kirsi Tikka
 president & coo of ABS in what promises to be a fascinating debate. So if you want hear what they have to say sign up today at http://www.smm-hamburg.com/en/programme/gmec/fees-and-registration/
Stopford commented: "2016 marks a cross roads for global shipbuilding and marine engineering businesses. It's time to pay attention and SMM 2016 will provide the ideal setting for industry managers to soak up trends, exchange opinions and stress test their conclusions."
The final session of the day looks at the all important area of green propulsion and asks if LNG is the answer or if there are other solutions. A diverse panel features a shipowner – Stena Line, represented by Erik Lewenhaupt
 head of sustainability; a classification society – DNV GL with its ceo of maritime Knut Ørbeck-Nilssen; and an oil major – ExxonMobil with Iain White
 global marketing manager, ExxonMobil Marine. They are joined by Gavin Allwright
 secretary of the International Windship Association (IWSA) and Christine Valentin
 coo of the World Ocean Council.
To make sure you have booked your place at gmec on 6 September at SMM 2016 in Hamburg visithttp://www.smm-hamburg.com/en/programme/gmec/