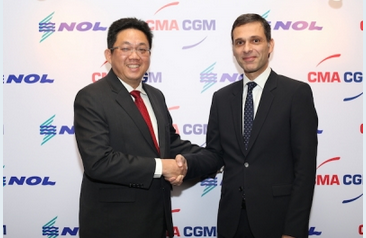 CMA CGM is moving ahead with its $2.4bn takeover offer for Singapore's Neptune Orient Lines (NOL).
CMA CGM said on Monday following satisfying pre-conditions and waivers it would be proceeding with its intention to make a general offer for NOL at SGD1.30 per share announced last December. It said it plans to dispatch an offer document "as soon as practicable" after the offer announcement which was made today 30 May.
CMA CGM has irrevocable undertakings from Temasek Holdings and related entities to sell their 66.78% stake in NOL, while the French liner firm has built up a 10.64% stake in the Singapore line on the open market. This means that it effectively has a 77.42% stake in NOL making the offer unconditional once the irrevocable undertakings are taken up.
CMA CGM has signaled its intent to delist NOL from the Singapore Exchange should it pass the required 90% acceptance threshold.
In its offer announcement the French line said: "The combination of the CMA CGM Group and the NOL Group will create a powerful and dynamic new entity, and the combined group's clients will have access to an enlarged and well balanced shipping coverage across the strategic trades of global commerce, and to an extended range of products and services."