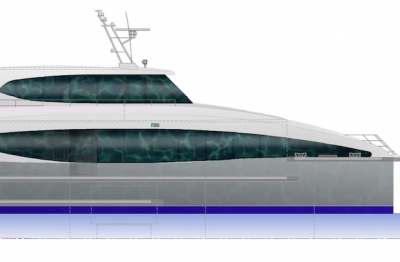 Crew boat building specialist Strategic Marine is making inroads into Indonesia, with its first collaboration with offshore marine and mining crew services provider Pelayaran Tanjung Kumawa, a subsidiary of Bumagroup.
Strategic Marine will deliver an exclusive luxury crew boat to the company in November this year. The 24-metre catamaran will adhere to the highest industry standards, with 60 reclining seats on the main deck and a lounge area on its upper deck.
"The vessel is currently under construction at Strategic Marine's facility in Vietnam," said Rob Boersma, senior business development manager of Strategic Marine.
The crew boat will have a capacity for 72 passengers and will transfer crews from shore to Indonesia's LNG and natural gas processing plants. Strategic Marine is working closely with naval architecture firm Incat Crowther to ensure the boat's design meets all requirements.
"This is Strategic's first collaboration with Pelayaran Tanjung Kumawa and we are honored to be awarded the project," Boersma added.
Strategic Marine currently operates in Singapore, Western Australia and Vietnam, and is the shipbuilding specialist for fabrication and engineering companies.
Pelayaran Tanjung Kumawa was founded in 1998 by the Bumagroup, a family-owned business which has interests in manpower services and seismic equipment, drilling exploration for oil and gas companies and general trade for communities in Papua.