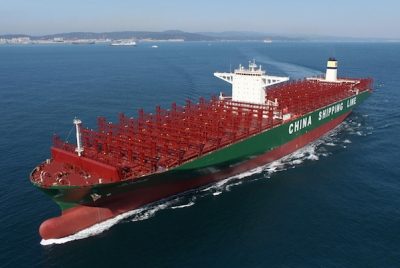 The headlong and some might say lemming-like dash by liner companies to deploy ever-larger container ships demonstrates their ceaseless quest for better economies of scale.
But their strategies could mean that they are unwittingly playing into the hands of their shipper customers.
Jan-Olaf Probst, a DNV GL executive vice president and director of business development, reveals that a 20,000 teu vessel costs around $145m today and probably requires main engine power of 51,000 kW. It provides capacity equivalent to two 10,000 teu ships which currently cost about $89m and have engine power of 36,000 kW each. From an operational and environmental perspective, therefore, one large vessel is more efficient than two smaller ones.
So why is it proving so difficult for mainstream carriers to raise rates? Probst points to the Shanghai Containerized Freight Index which reveals a steady decline in rates since 2009. One obvious reason, of course, is the steady build-up of container ship capacity and the resulting tonnage surplus which exists today. But some believe other factors could also be at work.
It is suggested that leading carriers have had to adjust their business models as they face the challenge of filling one ultra-large vessel on one sailing, rather than two smaller ones at different times. Of course, carriers hope that a substantial volume of capacity will be filled with cargo booked on medium- and long-term contracts with shippers.
But achieving satisfactory load factors on mega-ships is essential to their economics and also requires a significant drive to win more short-term and spot cargoes, often at the last minute and at discounted rates. Wily shippers, some suggest, may be realising that if they wait long enough, they could benefit from discounted rates and cheaper ocean shipping.