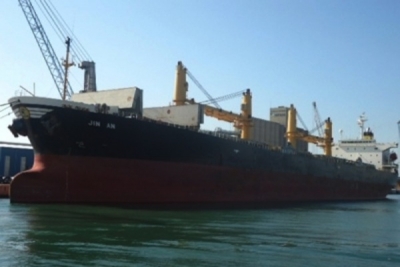 Jinhui Shipping has sold a second supramax vessel to a Hong Kong-based firm, after an earlier sale of another supramax to a UAE-based buyer.
The 2000-built, 50,236-dwt bulk carrier, Jin Rong, is sold to Ningbo Tiansheng Shipping Co at a price of $3.4m, leading to a book loss of around HKD31.78m ($4.1m) based on the vessel's net book value of HKD58.3m as at 31 March 2016.
The bulk carrier will be delivered to the new owner between 29 July to 30 August 2016.
The net proceeds from the vessel sale will be used for the repayment of vessel mortgage loan and as general working capital.
Last week, Hong Kong-listed Jinhui Shipping sold another 16-year-old supramax, Jin An, to UAE's Al Khalejia Aggregates FZE at a similar price of $3.4m, taking a book loss of some HKD33m.
Jinhui Shipping currently owns two post-panamaxes, two panamaxes, 29 supramaxes including Jin An and Jin Rong, one handymax, and one handysize.