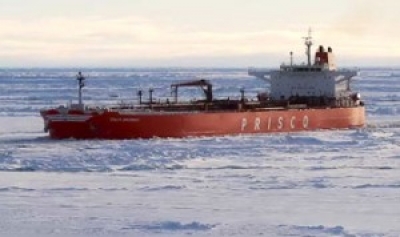 SCF Tankers, a subsidiary of Russia's Sovcomflot (SCF Group), announces it has won an auction to buy nine ice-class crude and product tankers formerly belonging to bankrupt Prisco (Primorsk International Shipping Co) for $215m.
The nine ships comprise one aframax crude oil tanker, three LR2 oil product tankers and five MR oil product tankers. All vessels are of Ice Class 1A or 1C and seven to eight years old, which is below the average age of the world tanker fleet.
Evgeney Amrosov, senior evp and coo of Sovcomflot, called it "a good deal" to purchase "high-class assets" at below their market price, which would allow the Group to strengthen its position in the transport of refined petroleum ports in general, and through Russian ports in particular given the vessels' ice-class capability.
Sovcomflot has previous experience of operating Prisco vessels having purchased six ice-class aframax tankers from the company in 2010, all of which are now employed on Sakhalin-1 and Sakhalin-2 projects under long-term contracts with the project operators.
Founded in 2004, Prisco specialized in owning tankers that could operate in extreme Arctic conditions on charter to oil majors. The company ran into financial difficulties when it expanded operations and loaded up on debt just before global markets crashed in 2008. It finally filed for bankruptcy protection in the US under Chapter 11 in January this year.