Just four months after a deadly November mudslide destroyed an entire mining community in southwestern Brazil, the companies responsible were working toward a resumption of iron ore production by year end.
As recently as March, hundreds of people left homeless by the disaster were sleeping in new beds. Children who had lost their school were hitting the books at renovated buildings. Thousands of animals and fish had been saved or relocated away from areas polluted by billions of gallons of sludge. All paid for by the mine and its owners, BHP Billiton Ltd. and Vale SA, which had agreed on a 12 billion reais ($3.66 billion) plan with the government to clean up after a dam holding mine waste burst in November.
But the Samarco Mineracao SA joint venture remains idle nine months after the mudslide — unable to extract ore with no authorized place to put unwanted dirt and no startup date on the horizon. A plan by BHP and Vale to resume output by temporarily using an empty mine shaft for waste has been delayed by political and regulatory hurdles. That may mean operations won't resume for another two years at a business that generated more than 2 billion reais in annual profit for its owners.
"It's going to be difficult," said Anderson Silva de Aguilar, the government regulator who is overseeing Samarco's bid to regain operating licences.
With no income from their joint-venture mine and growing questions about when it will resume production, BHP and Vale are looking into possible renegotiation of Samarco debt, according to people with knowledge of the matter. The venture's $1 billion of bonds due in 2022 are down 40 percent since the end of March, the worst performance among debt issued by more than 300 mining and metal companies tracked by Bloomberg.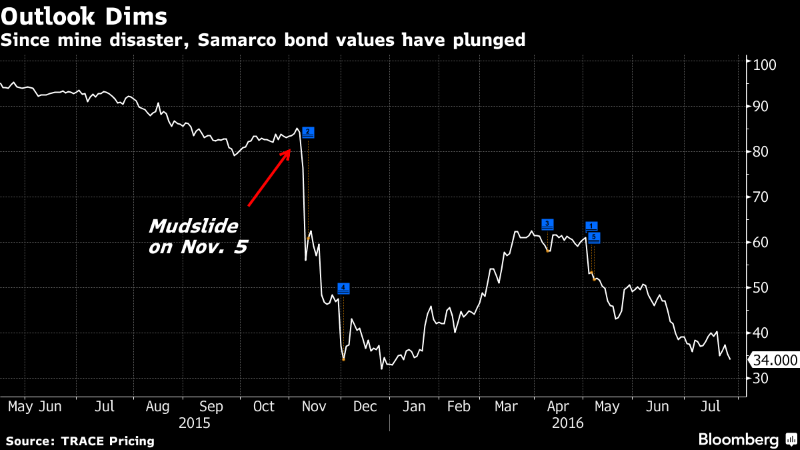 Last week, Moody's cut its rating on the securities to C, the lowest and typically used to indicate default or little prospect of an investor recovering principal or interest. The bond-rating company cited concern that the joint venture's diminishing cash position and its inability to obtain the required licenses.
The delays mark a shift in expectations over the past few months. In March, Samarco Chief Executive Officer Roberto Carvalho was cautiously optimistic. He insisted the mine could be up and running by the end of 2016, allowing the company to fund the cleanup and its debt obligations.
But getting approvals to resume operations can take about two years on average in Brazil and is a three-step process, according to Silva de Aguilar. For Samarco, the decision is largely in the hands of regulators in the state of Minas Gerais, home to most of the nation's iron production. It can take about a year to get the initial approval, and then another six months each for installation and operation permits, he said.
While Samarco initiated the process of trying to get its license back in February, its plan was dismissed by the technical team at the state environmental regulator, Semad. Since then, the mine has submitted a revised plan as of last month, so the review has only just begun, Silva de Aguilar said. Approvals could be completed in 2017, but that's unlikely, he said.
Cave Plan
The current Samarco proposal to resume output involves using an excavated cave near the mine that can hold 22 million cubic meters of dirt waste, or enough to last more than two years. That would give the company enough time to find an alternative means of waste disposal, including possibly designing and building a new dam to replace the one that ruptured in November and killed at least 19 people.
"If they could place mining waste in this cave, an area that it is considered degraded already, from an environmental perspective, this would be favorable," Silva de Aguilar said. But using a former mine shaft to store dirt isn't something the regulators are accustomed to evaluating, and a scientific study is underway to better understand the proposal and help determine if it can be viable, he said.
The cave plan is viable and simple, and should be approved quickly, according to Clovis Torres, Vale's general counsel. The company is committed to getting Samarco up and running again, though it isn't clear when that will be, he said.
Political Headwinds
"It's a great asset," Torres said. Abandoning the mine is "not in the public interest, in terms of jobs, the tax revenue and the quality of the mineral reserves the government will want to exploit," he said.
Compounding the challenge for Samarco are some new political headwinds. Agostinho Patrus, a state lawmaker who supports legislation to ban upstream tailings dams like the one that ruptured in November, said that "mines need to adopt new methods." While mining remains an important part of the Minas Gerais economy, expectations have changed, with more citizens demanding stricter environmental and safety measures, he said.
"After this terrible disaster, there has been, on the side of the established political powers, a movement directed at assuming stricter rules and especially legislation in ore to increase security related to mining," Patrus said.
Last month, a Brazilian court suspended a judicial ratification of Samarco's settlement and cleanup package, citing jurisdictional conflicts. The move clears the way for a civil lawsuit filed against the mine and its owners seeking 155 billion reais.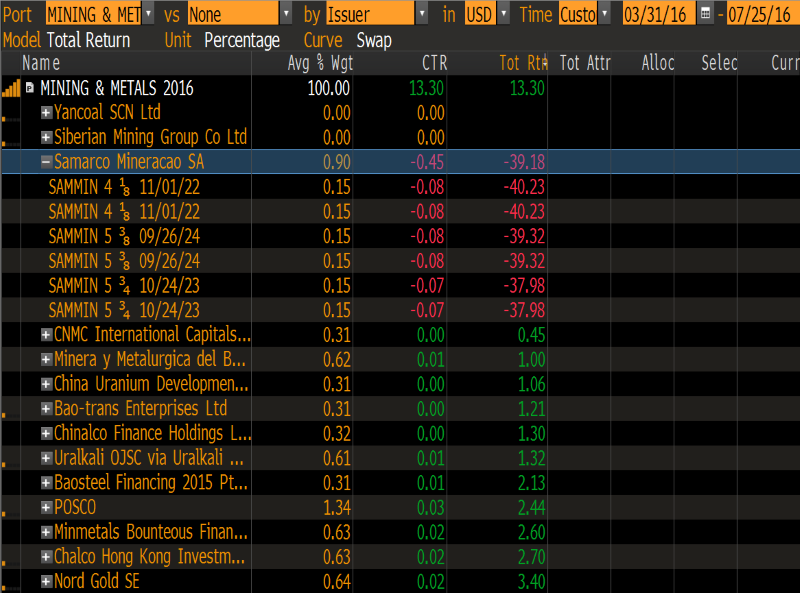 Bond Returns
Taking Longer
Joaquim Pimenta de Avila, a mining engineer who helped design the Samarco tailings dam before it was altered and burst, said the changing political climate threatens to complicate the already lengthy licensing process.
"What I have noticed is that it takes longer now," Pimenta de Avila said. "Society as a whole was impacted by what happened and wants to participate in the process. Nowadays, you have a predominance of social licensing over technical aspects."
Source: Bloomberg