The downwards trend line in Asia-Europe spot freight rates has finally been reversed, as data from World Container Index Shanghai-Europe reveals today.
Whereas the first four months of 2016 saw 50% or larger reductions in freight rates and record-low spot rate levels, a series of five consecutive monthly rate increases that started in April and continued again on 1 August has resulted in a return to an upwards trend line (see chart).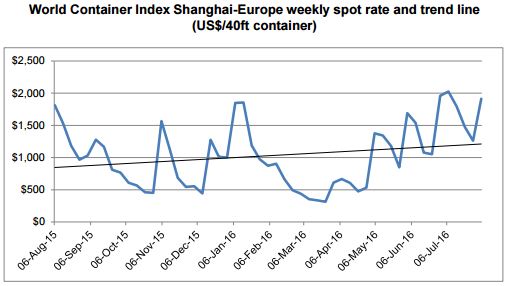 Source: World Container Index assessed by Drewry (www.worldcontainerindex.com)
"Shippers and cargo owners booking under spot rates enjoyed huge cost reductions while carriers suffered substantial revenue shortfalls in early 2016 on the Asia-Europe route but, as we predicted, this extreme situation did not last," said Philip Damas, director at Drewry, which jointly owns WCI alongside Cleartrade Exchange.
The average Shanghai-Rotterdam spot rate of just $772/40ft container for the period January-April nearly doubled, from a low base, to $1,467 on average for the period to May-August. Today's Shanghai-Rotterdam WCI rate is $1,914, up 52% on last week and up 6% on the same week of 2015.
The World Container Index assessed by Drewry tracks and documents the weekly changes in spot rates on 11 East-West routes.
The World Container Index is a weekly container pricing index based on actual agreed freight assessments reported by industry players in Asia, Europe and the US and is not financed or backed by either shipper or carrier interests.
Source: Drewry Maritime Research