Annual shipments into China have accounted for an average 60% of global bauxite imports since 2010, despite several major supply disruptions. The bauxite export bans introduced in Indonesia in 2014 and now in Malaysia have both severely hampered China's primary supply chains. However once again, Chinese bauxite imports appear to be recovering with the support of alternative trade partners.
Supply Disruption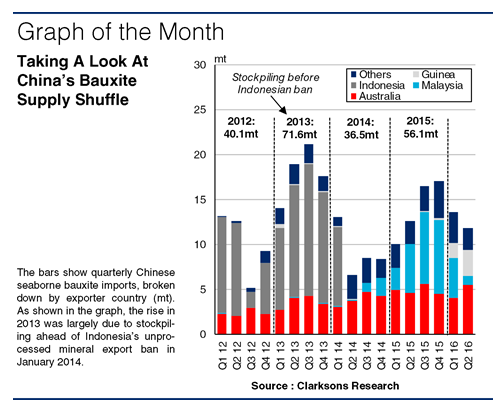 China accounts for around 3% of global bauxite reserves and produces over half of the world's alumina. However, inefficiency has resulted in a high dependency on bauxite imports. In 2013, shipments of bauxite into China surged 79% to a record 72mt, boosted by stockpiling ahead of Indonesia's unprocessed mineral export ban in January 2014. The ban then contributed to a 49% plunge in Chinese seaborne bauxite imports, to 37mt in 2014. However, having established new trade partners, the country's bauxite imports jumped 54% to 56mt in 2015.
Dual Boosters
This recovery was partly driven by rising imports from Australia, a traditional supplier of high quality bauxite. Australian bauxite exports to China rose by an average 24% p.a. in 2013-15, eventually reaching 20mt. This accounted for 35% of total annual bauxite shipments to China, compared to a 20% share in 2013.
Meanwhile, Malaysia emerged as a key alternative source for Chinese bauxite imports, with shipments surging from 0.2mt in full year 2013 to over 24mt by 2015. However, political pressure on the government due to serious environmental damage, resulted in a full suspension of bauxite mining activities in Pahang state in January 2016. Malaysian miners continued to ship their existing bauxite stockpiles from Kuantan Port, with China importing 4.5mt in Q1 2016. However, as these were absorbed, Chinese bauxite imports from Malaysia tumbled to 0.9mt in Q2 2016, contributing to a 32% y-o-y drop in the first six months of the year.
Further Diversification
Despite this, Chinese bauxite imports grew 12% y-o-y in 1H 2016, driven by a 22% y-o-y rise in shipments from Guinea. Chinese importers have enjoyed the fruits of their heavy investments in Guinea's Boke project in 2013, which boasts extensive and relatively accessible reserves. Shipments from Boke are set to reach 15mt this year, before going on to double by 2018. China has also taken more recent steps to diversify its supply chains. These include investment in projects in Ghana, as well as attempts to secure new deals with bauxite suppliers in Vietnam and Turkey.
A Promising Future?
So, while Chinese alumina production fell 2% y-o-y to 29mt in 1H 2016, there have been firm signs of recovery in recent months. This trend is expected to support Chinese bauxite import growth in full year 2016, even despite the loss of Malaysia as a primary supplier. In the long run, China is expected to secure bauxite supply, with a ramp up in Australian and Guinean output, as well as the additions of further alternative sources. Overall, given the country's track record for resilience, the outlook for expansion in Chinese bauxite imports appears to be fairly robust.
Source: Clarksons