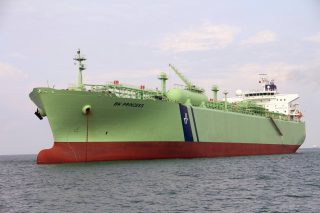 Singapore's gas carrier owner BW LPG has further expanded its fleet as it took delivery of the first of four Very Large Gas Carriers (VLGCs) in its newbuilding program from South Korea's Daewoo Shipbuilding and Marine Engineering (DSME).
Named BW Magellan, the new VLGC features a length of 226 meters and a width of 36.6 meters.
With a capacity of 84,000 m3, the 51,600 dwt ship has a market value of USD 66.2 million, according to data provided by VesselsValue.
With the latest addition, BW LPG owns and operates a fleet of 42 vessels with a total carrying capacity of over 3.1 million cbm.
The fleet comprises 37 VLGCs and five owned LGCs.
Furthermore, the company has five VLGC newbuildings under construction.
The delivery comes on the back of BW LPG's decision to up its offer for all the remaining shares in Oslo-listed Aurora LPG earlier in October.
Following discussions with the Board of Directors of Aurora LPG, the company has increased the consideration in the offer to either 0.3175 shares in BW LPG and NOK 7.40 in cash; or NOK 13.55 in cash, from the previously planned offer of NOK 12.30, for each Aurora LPG share.