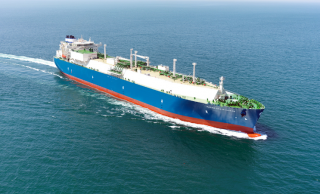 South Korean shipbuilder Daewoo Shipbuilding & Marine Engineering (DSME) has ordered the NO96 cryogenic membrane containment systems for two new liquefied natural gas (LNG) carriers from French marine engineering company GTT.
The NO96 systems, scheduled for delivery in 2019, will be installed on two LNG carriers currently under construction for Greece-based Maran Gas Maritime (MGM).
NO96 membrane system is a cryogenic liner directly supported by the ship's inner hull. This liner includes two identical metallic membranes and two independent insulation layers.
MGM, a gas shipping unit of the Angelicoussis Shipping Group (ASGL), currently has nine 173,400 cbm LNG carriers on order at DSME. The tankers are scheduled for delivery in the period between 2016 and 2019.
DSME has already received 147 ships orders with the NO96 technology, according to Philippe Berterottière, Chairman and Chief Executive Officer of GTT.