Gener8 Maritime Takes Delivery of New VLCC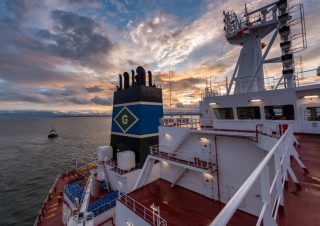 US-based crude oil shipping company Gener8 Maritime has taken delivery of the ECO Very Large Crude Carrier (VLCC) the Gener8 Miltiades on October 25, 2016.
Delivered from China's shipbuilder Shanghai Waigaoqiao Shipbuilding, the 301,000 dwt vessel represents the sixteenth of 21 ECO VLCCs expected to be delivered into Gener8 Maritime's fleet.
Upon delivery, the 333-meter-long ship entered Navig8 Group's VL8 Pool.
Featuring a capacity of 328,848 m3, Gener8 Miltiades is the sixth ECO VLCC delivered by SWS to Gener8 Maritime, concluding the company's newbuilding program with the yard.
In September, the shipping firm added its fourteenth and fifteenth VLCCs, the Gener8 Perseus and the Gener8 Oceanus, which were built by South Korean shipbuilders.
Upon delivery, the two VLCCs entered Navig8 Group's VL8 Pool.
Three more VLCC newbuildings are scheduled for delivery in 2016, while another two are expected to join the company in 2017.
As of October 27, 2016, Gener8 Maritime has a fleet of 43 wholly-owned vessels comprised of 26 VLCCs, including 5 newbuildings, 11 Suezmaxes, four Aframaxes, and two Panamax tankers.