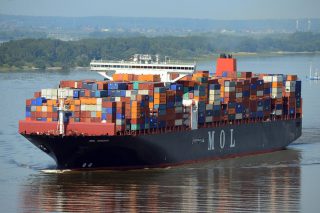 The recently announced merger of the container shipping businesses of Japan's three major shipping companies has no immediate impact on Mitsui O.S.K. Lines' Ba1 rating and negative outlook, according to ratings agency Moody's Japan K.K.
Moody's expects the integration of the three businesses could prove credit positive over time if it leads to more discipline in managing capacity. However, the potential cash flow synergies and balance sheet impact remain uncertain for now, including whether the companies will transfer their vessels to a new joint venture and the capital structure.
"The move highlights the very negative market conditions that continue to plague the containership industry," Mariko Semetko, a Moody's Vice President and Senior Analyst, said.
Unveiled on October 31, the combined joint venture will hold a 7% share of the global containership market and will rank sixth in terms of container ship capacity globally.
The potential economies of scale resulting from the merger could result in higher profits and cost competitiveness. In Moody's view, economies of scale in shipping could lead to lower operating costs, discounts on new buildings and on dry-docking expenses, and lower funding costs.
The combined entity's enlarged size could also enable it to offer more frequent and reliable services, and optimize routes and capacity utilization. In addition, the larger fleet should increase the new entity's flexibility in reacting to shifts in geographical trade patterns, laddering out scheduled docking, and adapting to changing regulations.
The companies target synergies of JPY 110 billion annually, although little detail has been provided on how and when the joint venture will achieve this, Moody's said.
"MOL's rating remains under significant pressure, and we estimate that debt/EBITDA will materially exceed 9x this year, which will provide it with very little, if any, cushion," Semetko said.
MOL will need to materially increase profitability and cash flow and reduce leverage over the coming 12-18 months in order to maintain its rating.
The company once again lowered its earnings guidance for the year ending March 31, 2017, as it said that it now expects an ordinary loss of JPY 3 billion for the fiscal year, compared to its previous guidance of a JPY 10 billion ordinary profit.