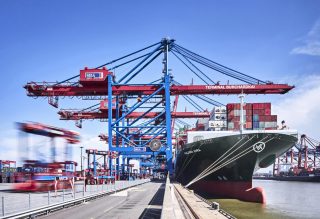 German terminal operator Hamburger Hafen und Logistik AG (HHLA) has seen its container throughput decrease by 2.1 percent in the period from January to September 2016, compared to the same period of 2015.
The operator handled a total of 4.9 million TEUs in the nine-month period, down from the 5 million TEUs reported a year earlier.
HHLA said that group revenue and operating result (EBIT) remained within the previous year's range, as its revenue stood at EUR 871 million (USD 952.6 million), compared to EUR 868.9 million (USD 950.3 million) reported a year earlier, while its operating result increased to EUR 126.9 million from EUR 123.9 million.
Additionally, container transport by the terminal operator's Intermodal companies increased by 5.9 percent to 1.05 million TEUs.
"HHLA turned in a satisfactory performance given the still subdued global economic growth, weak global trade, a further slowdown in global container throughput and continued infrastructure deficits," Klaus-Dieter Peters, Chairman of HHLA's Executive Board, said.
He added that HHLA sees "a positive trend in the Container segment over the year," as the Intermodal segment "once again recorded encouraging volume growth."
"We are confident that we can reach our targets by the end of the financial year," Peters noted.
Developments over the course of the year indicated that the container segment had bottomed out. After the negative volume trend seen in the first half of 2016, volumes recovered in the third quarter, growing by 5.6 percent compared with the same period of 2015. This growth was largely driven by an increase in feeder traffic, particularly between Hamburg and Russia.
Although the container throughput and revenue is still expected to remain on a par with the previous year's figures, HHLA said that it now predicts a moderate increase in container transport.