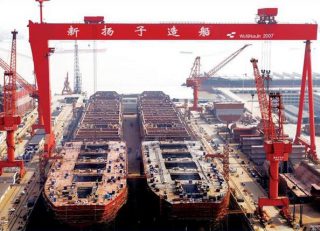 courtesy: Jiangsu Yangzijiang and Guangzhou Shipbuilding
Australian iron ore company Fortescue Metals Group Limited has finalized an agreement with the China Development Bank Financial Leasing Co., Ltd. (CDB Leasing) to finance eight Very Large Ore Carriers (VLOCs) currently under construction.
The finance lease facility funds 85 per cent of the VLOC cost for a minimum of 12 years on highly flexible terms, including early repayment and extension options for a further 3 years.
Out of the total construction cost of USD 556 million, the facility would cover USD 473 million of the expenses.
Fortescue will control the vessels for the life of the facility taking ownership on maturity or after early repayment. On delivery of each VLOC, 85 per cent of the payments will be drawn down on the finance lease facility, the company said.
Fortescue added that the agreement "represents a significant partnership with CDB Leasing and is the largest direct funding arrangement provided by a major Chinese financier for a non-Chinese company in Australia."
"This is a groundbreaking financing transaction which builds and broadens Fortescue's highly valued relationships with China through our first direct funding arrangement with a major Chinese leasing company," Nev Power, Chief Executive Officer, said.
Being constructed at China's Jiangsu Yangzijiang and Guangzhou Shipbuilding International shipyards, the first VLOC delivery is scheduled for November 2016, while the remaining vessels would join their owner by mid-2018.