DSME Narrows Loss as Union Jeopardises Financial Boost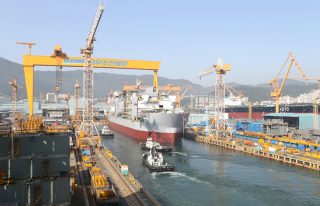 South Korean shipbuilder Daewoo Shipbuilding & Marine Engineering (DSME) has managed to narrow its net loss in the third quarter ended September 30 to KRW 238.1 billion (USD 203.9 million) compared to a net loss of KRW 1.14 trillion (USD 976.6 million) seen in the same quarter a year earlier.
During the first nine months of the year, the shipbuilder's net loss shrunk to KRW 1.42 trillion from a net loss of KRW 2.19 trillion reported in the nine-month period in the previous year.
The decrease in net loss is attributed to the company's stringent cost-cutting measures undertaken as part of DSME's restructuring procedure.
The financial results were released only days after reports that the shipbuilding major's creditors would inject KRW 2.8 trillion (USD 2.4 billion) into the company if DSME's labor union accepts the restructuring scheme.
Namely, the Korea Development Bank (KDB) intended to convert KRW 1.8 trillion of debt into equity. The bank had earlier converted around KRW 400 billion worth of loans into DSME's stocks.
The second creditor, the Export-Import Bank of Korea, had plans to buy KRW 1 trillion worth of bonds that would be sold by the shipbuilding company.
However, the restructuring plan, which was introduced in order to prevent the shipbuilder's delisting from the stock market, has once again encountered an obstacle as DSME's labor union on Moday said that it would not accept the scheme, according to Korea Herald.
If the union's approval letter is not submitted to the creditors by Friday, the banks may withdraw their injection plan, which could push the shipbuilder toward delisting and bankruptcy.