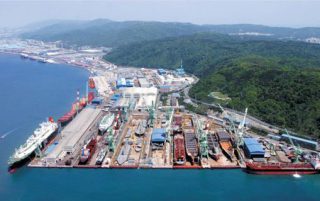 Ulsan-based shipbuilder Hyundai Mipo Dockyard has agreed to push the deliveries of four liquefied petroleum gas (LPG) carriers, the company said in a stock exchange filing.
The delivery of two LPG carriers, which were scheduled to join their owner in late March 2017, was pushed by four months. The newbuildings are now expected to be delivered in early August 2017. The ships were ordered in June 2014 for a price of KRW 106.7 billion. Following the agreement to delay the vessels, the contract price has been changed to KRW 107.2 billion for the duo.
Additionally, the shipbuilder informed that the remaining two carriers would be delivered some eight months later than initially agreed. Namely, the ships which were supposed to join their owner in late July 2017, would now be handed over in early April 2018. Hyundai Mipo said that the contract price has been modified to KRW 106.8 billion from the initially agreed KRW 106.3 billion for the LPG tanker duo ordered in August 2014.
The shipbuilder added that the quartet was ordered by an Oceania-registered shipowner, however, it did not disclose the name of the owner.
Data provided by VesselsValue indicates that the vessels in question could be owned by Greece-based StealthGas Inc, as the company has four 21,850 cbm LPG carriers on order at the shipyard.
World Maritime News contacted StealthGas for confirmation, however, the company is yet to reply.