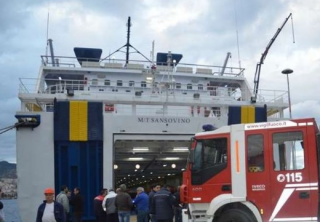 Three people were killed and another was seriously injured by toxic fumes during maintenance works on board the roll-on/roll-off passenger (RoPax) ship Sansovino which was moored at the Port of Messina, Italy, on November 29, 2016.
Six men were cleaning a tank on board the 1989-built vessel owned by Italian company Caronte & Tourist when the incident occurred, according to the local fire department.
The firefighters were called in to rescue the unfortunate workers from the ship.
The three workers were killed by hydrogen sulfide fumes from oil residues, local media reported.
An investigation has commenced into the incident. Caronte & Tourist said that the company will work closely with local authorities to identify what exactly was the cause of the accident.
The company also announced that it will set up an internal commission to shed light on what led to the incident.