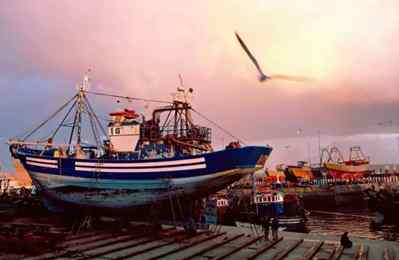 Daewoo Shipbuilding and Marine Engineering (DSME) has clinched an order to build a 173,400-cubic-meter liquefied natural gas floating storage and regasification unit (LNG-FSRU) from Greece-based Maran Gas Maritime, a deal providing financial relief to Korea's debt-ridden shipbuilder.
Maran Gas Maritime is an affiliate of Greece's largest shipping company Angelicoussis Shipping Group, and it is the group's first LNG-FSRU order.
The contract also includes an option to build two more LNG tankers if Angelicoussis Shipping Group satisfies with the first deal to build the LNG-FSRU. The total contract volume including the option amounts to 700 billion won ($589.7 million).
"I would like to express my gratitude to Angelicoussis Shipping Group for choosing DSME in such a critical moment," said DSME CEO Chung Sung-lip during the contract signing ceremony. "DSME will continue its best to have more contracts to help its financial status."
The LNG-FSRU is expected to be built at the Okpo Shipyard in Geoje, South Gyeongsang Province, and the scheduled delivery will take place by early 2020.
DSME said the company built the world's first LNG-regasification Vessel (LNG-RV) in 2005, and will utilize the technologies in building the LNG-FSRU. It is expected to sail maximum 18 knots.
LNG-FSRU supplies natural gas without ground gasification facilities, which usually involve massive investments, so it is often used in areas where demand is sharply increasing but ground gasification facilities are hard to build.
Despite DSME's crisis in financial status, Angelicoussis Shipping Group ordered two LNG tankers and another two Very Large Crude Carriers (VLCCs) in June.
Angelicoussis Shipping Group has also ordered a total of 89 ships with DSME since its first order took place in 1994. Currently, 20 ships are being built at DSME's Okpo Shipyard and Romanian shipyard.
This year, DSME has so far clinched a total of $1.55 billion in 12 shipbuilding contracts.
Source: Korea Times