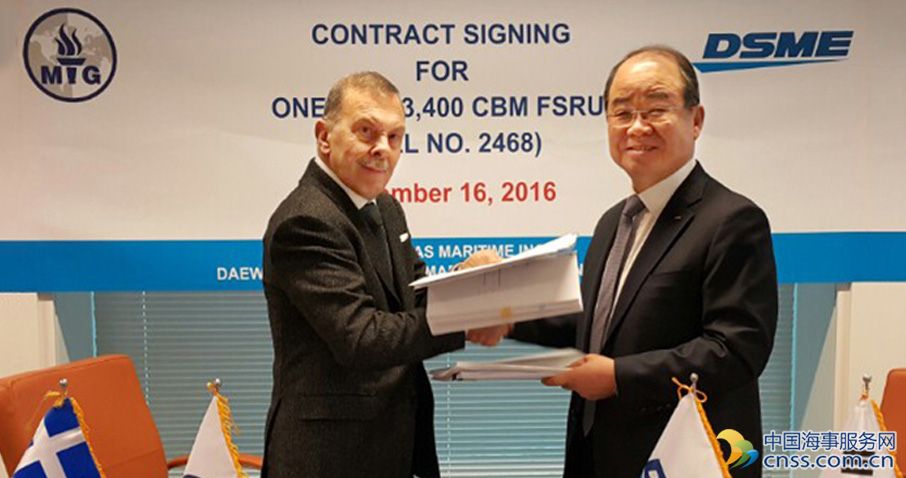 South Korean shipbuilder Daewoo Shipbuilding & Marine Engineering (DSME) has won a contract to build a liquefied natural gas floating storage regasification unit (LNG FSRU) for the Greece-based Maran Gas Maritime, part of the Angelicoussis Shipping Group.
The contract includes the 173,400 cbm LNG FSRU and an option for the construction of two LNG carriers, and it carries the value of KRW 700 billion (around USD 590 million). The options could be exercised in 2017, according to DSME.
The LNG-FSRU is 295m long and 46m wide and is the first LNG-FSRU to be ordered by the Angelicoussis Group. It will be constructed at the Geoje Okpo shipyard and will be delivered to the shipowner in the first half of 2020.
The vessel's design is based on the LNG-RV (LNG Regasification Vessel), which was designed for the first time by DSME in 2005.
This is the second order DSME has received from the Angelicoussis Group this year. Back in June, the Greek shipowner ordered two LNG carriers, as well as two very large crude carriers from the South Korean shipbuilder.
Currently, DSME is building 20 vessels for the Angelicoussis Group in South Korea and Romania.
In total, the group has ordered 89 vessels from DSME since the first deal was signed in 1994.
"We are grateful to Angelicoussis Group, which has decided to place order during such difficult times and showed unlimited trust in DSME," said DSME President Jung Sung-lip. "We will do our best to win additional orders until the end of this year."
DSME has won contracts to build nine vessels and three special-purpose projects in 2016, with an overall value of around USD 1.55 billion.