The Japanese half of a mining venture that supplies almost a third of the world's coking coal exports is making money again, but its future was in question just a few years ago.
A recovery in prices and deep cost cuts helped Mitsubishi Corp.'s Australian coal business swing back to profit in the first half of the fiscal year, with JPMorgan Chase & Co. predicting the best annual return since 2010. The outlook was very different two years ago as a rout in commodities brought Mitsubishi Development Pty to its knees and led its parent company to post the first annual loss last year, according to the executive responsible for turning the business around.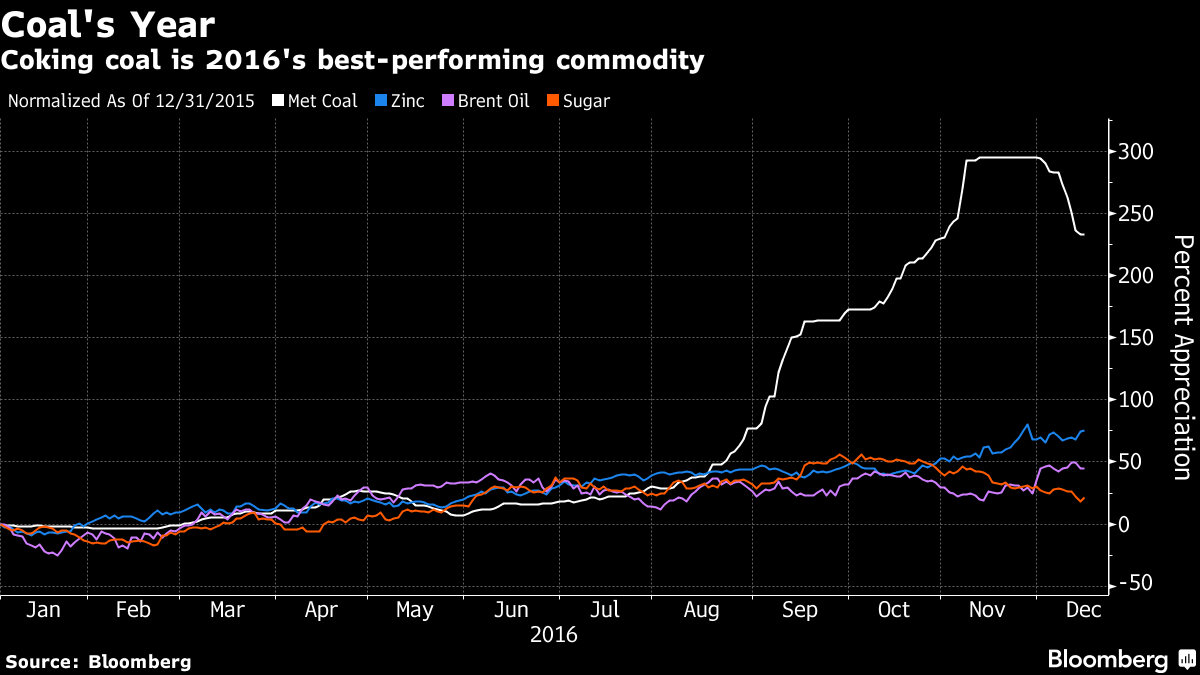 "Two years ago, it was said that MDP was finished," Kanji Nishiura, the head of the trading company's metals and coal business, said in an interview in Tokyo on Tuesday. "Now we are in the top fourth of cost competitiveness. We cut contractors to the lowest level possible, hired cheaper contractors, reduced machine maintenance frequency as much as we could while assuring safety."
Mitsubishi's efforts to keep its coal business competitive by slashing costs played out across the globe as miners fought to stay alive after the collapse that began in 2014. While this year's rapid rebound in prices solidifies the recovery, it's coming too late for some companies that succumbed to the turmoil.
One such victim was Peabody Energy, the world's largest private-sector coal producer, with over a hundred years of history. It filed for bankruptcy in April, joining at least four other large coal companies that sought protection as a flood of cheap natural gas and glut of metallurgical coal dragged prices for the steel-making component to the lowest in more than a decade.
The subsequent recovery in prices would have surprised even the biggest bulls. Spot prices for coking coal have tripled in the last year, touching as high as $308.80 a metric ton in November as steps by China to reduce excess production capacity help to re-balance the market. They were as low as $75.30 in February.
Profit Bounce
MDP operates BHP Billiton Mitsubishi Alliance, a joint venture with BHP Billiton Ltd. and the world's biggest shipper of seaborne metallurgical coal. It booked a total net income of 22.3 billion yen ($190 million) in the first two quarters ending September, swinging to profit after a net loss of 57.7 billion yen in the fiscal year ended March. Kazuhisa Mori, an analyst at JPMorgan in Tokyo, predicts profits will hit 130 billion yen for the current year, the highest annual profit for the unit since 2010.
While prices are showing signs of cooling as Chinese output rises again, slipping 16 percent since Dec. 1, they have a lot further to go before MDP is in the red again. A price of under $80 to $90 a ton risks pushing the miner back to a net loss, according to JPMorgan.
"No one thinks that it will return to the price at the beginning of the year," Mitsubishi's Nishiura said. "I'm proud of what we have done at MDP. If MDP were to swing to a net loss, then I'm sure there won't be a single company in the coking coal sector making a profit."
Source: Bloomberg