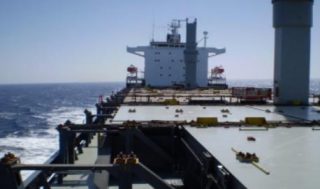 Greek owner and operator of drybulk and container carriers Euroseas has signed an agreement to acquire an Ultramax drybulk carrier from China's Dayang shipyard.
The 63,500 dwt newbuilding Hull DY160 is expected to be delivered in January 2017, subject to a successful inspection by the company by late December 2016.
Following delivery, the eco-ship will be named Alexandros P, Euroseas said, adding that the bulker will be acquired for some 62% of its contracted price in early 2014.
The shipping firm will apply the construction deposits already paid for Hull DY160 and a sister vessel, Hull DY 161, and contribute nominal incremental cash.
Euroseas supervised the construction of Alexandros P over the last two years.
The company said that the vessel is "a modern eco-ship incorporating the latest regulatory requirements and technological advances."
Alexandros P is a part of the company's fleet renewal strategy in anticipation of a recovery in the drybulk market.
After the acquisition of Alexandros P, and the acquisitions of RT Dagr and Capetan Tassos, to be delivered in December 2016 and January 2017, respectively, Euroseas' fleet will consist of 15 vessels, including one Kamsarmax, four Panamax, one Ultramax and one Handymax drybulk carriers, and eight feeder containerships.