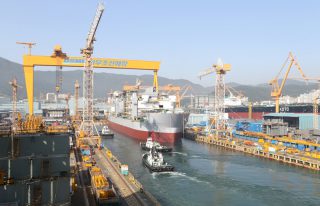 Driven by the decrease in new shipbuilding orders, the South Korean shipbuilder Daewoo Shipbuilding & Marine Engineering Co. (DSME) said that it plans to undertake a KRW 2.5 trillion (USD 2.1 billion) self-rescue plan during 2017, according to Yonhap News Agency.
Larger than last year's KRW 1.6 trillion plan, the new measures would include further decrease in its workforce by up to 2,000 workers. By the end of 2017 the company's workforce is expected to drop to a total of 8,500 workers.
The plan also includes the disposal of DSME's non-core assets, such as its IT business, as well as its buildings and floating docks with a total worth of around KRW 500 billion.
As it struggled to return to profit, in 2016 DSME said that it would implement a number of self-rescue measures totaling KRW 6 trillion by the end of 2019.
Additionally, the shipbuilder decided to cut its 2017 goal for new ship orders to USD 5.5 billion after its 2016 orderbook fell short of expectations.
Namely, during 2016 DSME secured a mere USD 1.55 billion of new orders, much less than the USD 6.2 billion aim, Yonhap reported.