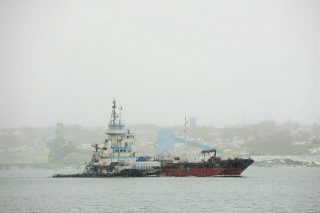 Arca 1, a bunkering tanker, was refloated one week after running aground north of Sydney, Nova Scotia, Canada, on January 8, according to the Canadian Chamber of Shipping.
After an unsuccessful tow attempt and extensive de-ballasting and pumping operations, a salvage crew removed 300 tons of ballast water and was able to free the tanker at high tide. On January 15, the ship arrived in Sydney, being fully inspected to determine the cause of its problems.
At the time of the incident, the 1,317 dwt ship was en route to Sydney for repairs when it ran into trouble due to an engine failure and loss of propulsion. Arca 1 was not carrying any cargo but had about nine tons of diesel and its ballast tanks contained seawater.
Following the incident, the Canadian Coast Guard coordinated the rescue operation of the six crew members aboard the vessel via a military helicopter airlift.
Coast Guard officials confirmed that no pollution had occurred as a result of the grounding or the towing operation.