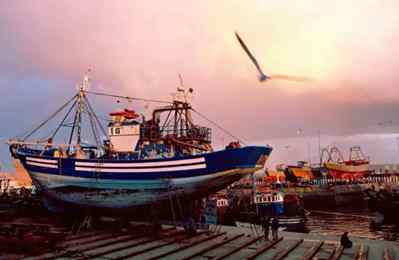 Asia's oil refineries are turning to the North Sea for crude supplies like never before as their primary suppliers restrict output in an effort to eliminate a glut.
Crude exports to Asia from the North Sea are poised to reach a record 12 million barrels in January, data compiled by Bloomberg show. Tankers hauling 9 million barrels from fields off the coasts of Norway and the U.K. already sailed east, and at least another 3 million barrels are set for export within the next week. If all the oil flows move as planned, about two-fifths of January supply underpinning the Brent crude benchmark will go to Asia.
"In the absence of enough supplies from the Middle East, Asia is turning to the North Sea and West Africa to meet its demand," said Ehsan Ul-Haq, principal consultant at KBC Advanced Technologies. While China's oil production has declined, the Atlantic Basin remains oversupplied, he said.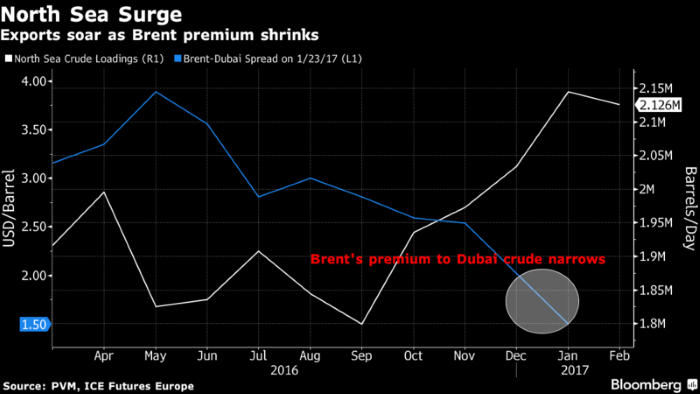 North Sea crude suppliers are among those reaping the benefits from output cuts by the Organization of Petroleum Exporting Countries and 11 other nations in an effort to steady global oil markets. The group's supply cuts have increased the relative value of Middle East oil to a 16-month high, while producers including Saudi Arabia and Kuwait are restricting eastbound cargo flows. That means North Sea grades are becoming somewhat more affordable for refiners in Asia, where China is guzzling crude at record levels.
Supertankers Depart
Oil prices have risen by about 20 percent since the end of November, when the output reductions were agreed. Brent crude traded at $55.24 a barrel on the ICE Futures Europe exchange at 12:49 p.m. in London.
Since Jan. 7, four crude-laden supertankers have departed from Hound Point, off the coast of Scotland, bound for destinations in China, Singapore and South Korea. A smaller Suezmax-class ship, Gener8 St. Nikolas, left Teesport, England, for China on Jan. 14. The vessels, chartered by companies including BP Plc and Unipec, the trading arm of China Petroleum and Chemical Corp., are carrying Forties and Ekofisk crudes, two of the four grades used to price the global benchmark Dated Brent. Glencore Plc has chartered an additional supertanker to haul North Sea oil to Asia later this week.
While a big increase in North Sea oil flow was expected since output of some grades has been increasing, the destination of that oil depends in part on prices.
Brent normally trades at a big premium to a regional benchmark for the Middle East grades, acting as a brake on flows to Asia. Since OPEC cut output that advantage diminished rapidly, making the west-to-east trade more appealing. Brent futures fell to as little as $1.47 a barrel more than their Dubai equivalent on Monday, according to data from PVM Oil Associates Ltd. As recently as April they were almost $4 higher.
North Sea Flows
Monthly shipments of key North Sea grades Brent, Forties, Oseberg and Ekofisk to Asia reached a previous record of 10 million barrels in October. This compares with an average of about 6 million barrels a month, or roughly 200,000 barrels a day, for all of 2016, according to data compiled by Bloomberg.
Unusually, the cargoes being shipped to China are finding buyers while en route, according to Nevyn Nah, an analyst who covers refined products at London-based consultancy Energy Aspects Ltd., and two physical oil traders directly involved in the market. China's independent "teapot" refiners, which can refine oil quickly, boost purchases of crude that's already in transit so they don't have to tie up money for long periods of time, Nah said.
China's crude oil demand in December grew by more than 12 percent to a record 36.4 million tons, or about 8.6 million barrels a day, data from the nation's Customs General Administration show. Its oil refineries also increased runs to a record 11.3 million barrels a day, ahead of clean-fuels requirements that took effect this month.
"Traders are moving more cargoes from the North Sea without first securing a customer, marketing cargoes as the vessel makes its more than 30-day journey to Asia," Nah said.
Source: Bloomberg