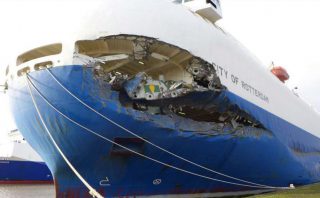 The distortion of the pilot's spatial awareness due to 'relative motion illusion' aboard the Panama-flagged car carrier City of Rotterdam was reported as the cause of a collision between the vessel and the DFDS-owned ferry Primula Seaways in early December 2015.
The incident between Primula Seaways and City of Rotterdam in the Humber Estuary, UK, stemmed from the latter being set to the northern side of the Bull Channel by the wind and the tidal stream, followed by the distortion of its pilot's spatial awareness, a report from the UK Marine Accident Investigation Branch (MAIB) shows.
The MAIB investigation identified that the outbound City of Rotterdam had moved into the path of the inbound ferry, but this had not been corrected because the pilot on board had become disoriented after looking through an off-axis window on the semi-circular shaped bridge.
"The pilot was under the impression that the vessel was heading to the south, whereas its heading was not altered significantly beyond the axis of the channel until collision was imminent," MAIB informed.
The report also shows that the interventions made by VTS were not "sufficiently robust" to make the pilot appreciate that more aggressive action was required to avoid the developing collision situation.
Moreover, the absence of any challenge or intervention by City of Rotterdam's bridge team until collision was imminent indicates an over-reliance on the pilot and a breakdown in the bridge resource management on that vessel. In addition, although Primula Seaways' bridge team had identified the risk of collision and had taken action to clarify the pilot's intentions, substantial action to avoid the collision was taken too late to be effective.
Although, both vessels suffered damage in the collision, they made their way to Immingham without assistance. Primula Seaways suffered damage to its bow above the waterline, while City of Rotterdam's bow was damaged in way of the forward mooring deck, the forward hydraulic room, and car decks 5 and 6.
There was no pollution and there were no serious injuries.
MAIB added that City of Rotterdam's classification society Bureau Veritas has been recommended to propose measures to the International Association of Classification Societies that are aimed at raising the awareness of relative motion illusion and promoting the need for naval architects and shipbuilders to adhere to internationally accepted ergonomic principles for bridge design.