The Chairman of Baleària, Adolfo Utor, presented the shipping company's strategic investment plan today for the next five years which accounts for 450 million euros, aimed at gaining "in competitiveness and offering the best services at the best prices," mainly with the construction of new gas-propelled ships and terminals that use smart technology solutions.
Thus, the investment plan provides for both the construction of three new smartships propelled by natural gas (one at the LaNaval shipyard and another two at Cantieri Navale Visenti) as well as the purchase of other units and the modernization of the ships it already has in its fleet with repowering. Moreover, the plan includes building new smart terminals for passengers in Barcelona, Valencia and Palma, as well as opening up to new traffic. Utor highlighted that these investments reinforce "the shipping company's commitment to innovation and energy efficiency as the basis for continued growth."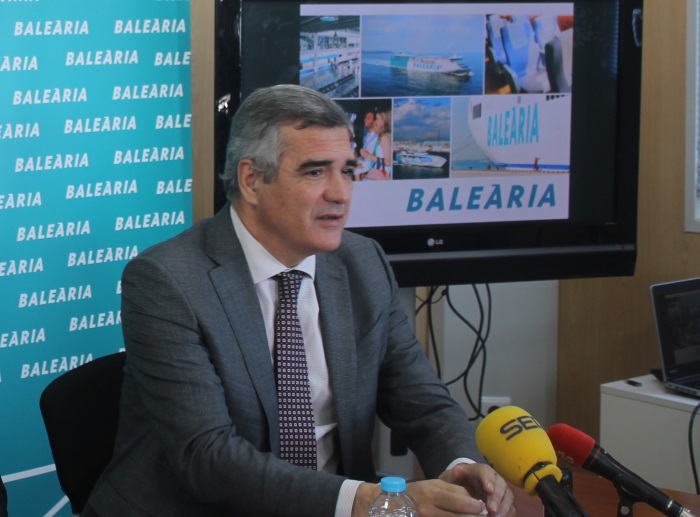 Financial results
After closing the annual accounts (its fiscal year is November to October), the Baleària Group's turnover totaled 329.5 million euros, which is 13% more than the prior year. This result is due to its increased offer with new ships and lines. The consolidated Gross Operating Result (EBITDA) was 78.8 million euros in 2016, with 39 million euros in profits, which the company attributes to the lower fuel prices and increased demand.
Global passenger and goods numbers
The Baleària group carried 10% more passengers, vehicles and ro-ro cargo in 2016 in comparison with the year before, thus reaching 3.5 million passengers, 750,000 vehicles and more than 5 million linear meters of goods for all of the routes it operates nationwide in Spain (Balearic Islands, Ceuta and Melilla) and abroad (United States-Bahamas, Morocco and Algeria).
The shipping company's 25 vessels travelled more than a million miles in 2016 on its 18 routes, which accounts for 20% more than the year before, mainly due to the opening of new connections with Melilla and Algeria and expanded services for its Balearic Islands routes.
In the north of Africa, Baleària added new lines to the connections from Algeciras to Ceuta and Tangier. Thus, routes were opened in 2016 from Melilla to Almeria and Malaga, in addition to a connection from Valencia to Mostaganem. This made it possible to record a 7% increase in the number of passengers for a total of 1.65 million passengers, and 8% more transported goods (975,000 linear meters).
On the other hand, its Baleària Caribbean subsidiary, which sails between the United States and the Bahamas, has become quite strong upon its fifth anniversary with 5% growth and a total of 150,000 passengers using its services.
In short, the company's three international routes carried more than 700,000 passengers in 2016, which is 15% more than the year before. Passengers on international lines represent 20% of the total for the Baleària group.
Source: The Baleària group