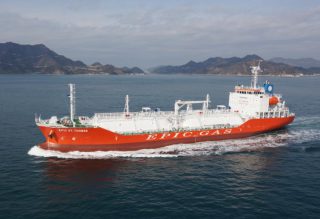 Although the liquefied petroleum gas (LPG) shipping trade is expected to continue growing on the back of strong Asian demand, the rates could fall further in 2017 due to continued oversupply, according to shipping consultancy Drewry.
2017 is expected to be no different from 2016, when LPG shipping rates were under pressure across all size segments. On top of the 17% expansion of the fleet seen last year, the fleet is set to grow by another 16%.
Drewry said that the mismatch between fleet and trade growth will further squeeze rates in 2017 for all LPG vessel segments, except the small coasters. Namely, the strongest fleet growth will be registered in the MGCs segment at 35%, followed by the Handy-Size and VLGC segment, where the fleet will expand at 23% and 16% respectively in 2017.
"Currently, the LPG market is flooded with excess vessel supply but from 2018 fleet growth will slow down. This indicates a good long-term outlook, however we expect only a modest recovery in rates in 2018 as the market will require about two years to regain its balance," Shresth Sharma, senior analyst for gas shipping at Drewry, said.
Asia-Pacific countries have been the major drivers of LPG trade for several years, and imports to this region have grown at a rate of 12% annually over the last four years. The region is expected to continue to be the major driver of future LPG trade as a vast section of the population still does not have access to clean-burning LPG fuel, according to Drewry. The LPG trade is forecast to grow at around 5% pa over the next four years.