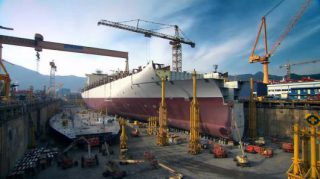 John Fredriksen-controlled Flex LNG said it was contemplating the acquisition of shipbuilding contracts for two high-end MEGI LNGC newbuilds at South Korean shipbuilder Daewoo Shipbuilding and Marine Engineering (DSME).
The contracts are currently held by affiliates of Geveran Trading Co. Ltd. (Geveran), the company's largest shareholder.
With this move, Flex LNG will have a uniform fleet of four LNG MEGI carriers with expected delivery in early 2018, with "the most advanced propulsion and fuel efficiency technology compared to the existing LNG fleet."
"Furthermore, the transaction will consolidate all Geveran's LNG assets and activities in Flex, which will be positioned to capitalize on the expected tightening in the LNG shipping market, and on the expected strong growth in the markets for LNG shipping and FSRUs," the Norwegian-based company said.
The newbuilds will be partially financed by the issuance of 78 million new shares in the company to Geveran, while the rest will be settled by a seller's credit structured as a revolving credit facility.
Flex also said that it would assume responsibility for the remaining newbuilding instalments payable to DSME amounting to approximately USD 20.4 million.
In addition, Flex LNG is considering a USD 100 million offering of new shares against cash payment that would involve issuance of approximately 147–150 million new shares. The net proceeds from the private placement will be used for debt repayment under the RCF, working capital and general corporate purposes, the company pointed out.