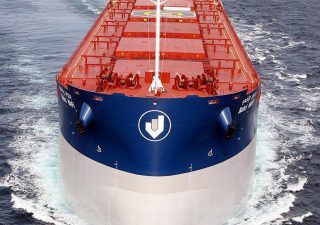 National Shipping Company of Saudi Arabia (Bahri) has opened a new office in Mumbai to strengthen its presence in the Indian maritime industry.
"The opening of our new office in Mumbai is a strategic, long-term investment by Bahri and underscores the company's strong commitment towards the Indian market as we look to expand into other verticals of the marine transportation industry," Eng. Ibrahim Al-Omar, Bahri CEO, said.
"For Bahri, the Indian maritime sector holds enormous potential for further growth and profitability with a large customer base and rapidly increasing demand for marine transportation solutions," Al-Omar further said, adding that the company aims to expand its services to transporting other cargoes such as crude oil, oil products and chemicals.
The new office, located in the central suburb of Hiranandani, Powai, was inaugurated by the company's chief executive officer, Eng. Ibrahim Al-Omar, in the presence of Ahmed Al-Ghaith, President, Bahri Logistics, Wael Al-Sarhan, Vice-President, Marketing and Communications, Bahri, Capt. Jiten Bhosale, Bahri's India Country Manager and other senior executives and staff.
Bahri India works with major Original Equipment Manufacturers (OEMs) for moving cargo exports out of India. The company is also involved in the shipment of high and heavy equipment.
Bahri recently took delivery of its 37th very large crude carrier (VLCC) from South Korean shipbuilder Hyundai Heavy Industries. The company has nine more VLCCs on order at the yard.