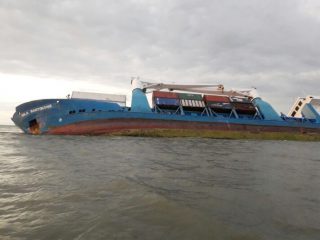 General cargo ship Isla Bartolomé ran aground Thursday on a sandbar at the coast of Puna Island in Ecuador while en route to Galapagos Island and listed on its side partially sinking.
It has been reported that the grounding occurred shortly after the ship departed the port of Guayaquil, leaving the vessel's hull breached and allowing for water ingress.
The shipowner has hired a salvage company to unload and transport the 160 containers from the stricken vessel before activities are launched to refloat the ship, the Ecuadorian navy said.
According to the navy, inspectors have been sent to the site to determine what caused the incident. The local maritime authority, Dirección Nacional de los Espacios Acuáticos (DIRNEA), said that activities are underway to assess the potential environmental impact of the grounding as there had been an oil sheen detected near the ship.
There have been no injuries reported to the ship's crew who have been evacuated from the vessel, which was in danger of sinking.
The 3,800 DWT ship is operated by Ecuador's Transportes Navieros Ecuatorianos (Transnave) and under contract with the navy. The MPP was built by Western Marine in 2013.