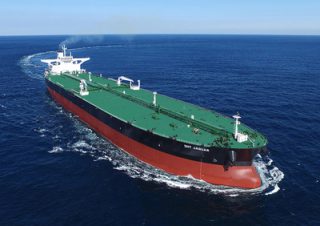 Crude oil tanker operator DHT Holdings has secured bank financing for the two 318,000 dwt VLCCs newbuildings ordered at South Korean shipbuilder Hyundai Heavy Industries (HHI).
The VLCCs were ordered in January 2017 and are to be delivered in July and September 2018, respectively.
As disclosed, the financing will cover about 50% of the contract price with the remainder being financed by cash at hand.
"As such, DHT does not intend to issue any stock to finance the two newbuildings," the company said in a release.
In line with the terms of the deal, the financing has a 5 year tenor and its 20 year repayment profile is in support of DHT's low cash break-even levels.
"DHT estimates that the average cash break-even for each vessel to cover OPEX, interest and debt repayment to be about USD 16,800 per day. The bank financing has a margin of 250bps above LIBOR and 50% of the financing is structured as a revolving credit facility," the release further reads.
Separately, the company said yesterday that its Board of Directors unanimously rejected Frontline's revised proposal to acquire all of the outstanding shares of common stock of DHT at an exchange ratio of 0.8 Frontline shares for each DHT share.
"After a comprehensive review, conducted in consultation with its financial and legal advisors, the DHT Board concluded that the revised Frontline proposal continues to be wholly inadequate and not in the best interests of DHT or its shareholders. The Board notes, in particular, that Frontline's revised proposal continues to significantly undervalue the contribution that DHT's business and fleet would make to a combined company, including with respect to net asset value and profit contribution," DHT explained.
As pointed out, DHT Board informed Frontline of its decision on Sunday, February 26 and, in its response letter, offered to have DHT's co-CEOs meet with Frontline over the coming days, which Frontline is said to have rejected on both February 28 or Wednesday, March 1.
DHT has a total fleet of 21 VLCCs, 19 in the water and two under construction, as well as two Aframaxes. Six of the VLCCs and the two Aframaxes are on fixed rate time charters.