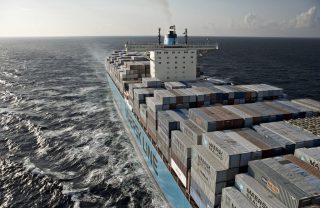 Ailing South Africa imports from Asia could see a small recovery in 2017, as improving demand and capacity management helps to lift southbound spot rates to a 26-month peak, according to shipping consultancy Drewry.
Containerized imports from Asia to Southern Africa slumped by 7.8% in 2016 to their lowest volume since 2012. Figures from the Container Trade Statistics (CTS) show that 2016's annual sum of 731,000 TEU was the weakest annual return in four years and was about 9% off the peak of 807,000 TEU recorded in 2013, Drewry said.
The trade has experienced five straight quarters with year-on-year (YOY) declines although the rate of erosion did slow up in the final three months of 2016, when container imports dropped by 2.4% YOY, versus declines of 7% in the first quarter, 9% in the second and 12% in the third. With weaker comparisons to look forward to in 2017, the trade should find it easier to register growth once more, the shipping consultancy predicted.
There are other, non-statistical, grounds for optimism. The improved economy in South Africa and the strengthened rand are expected to encourage further imports into the region.
There are currently 10 weekly services connecting Asia with Southern Africa, although three of those do not serve the southbound market, the shipping consultancy said.
Carriers have started adding Southern Africa wayport calls to services linking Asia with West Africa. Such a move last year by French shipping company CMA CGM and Danish carrier Maersk on their joint Asia-West Africa FEW6 loop introduced ships as large as 9,200 TEU to Cape Town.
"We expect this trend will persist as carriers prefer to turn services into multi-trade operations rather than starting dedicated loops because of increased vessel sizes, cascading pressure and the desire to attain greater economies of scale," Drewry pointed out.
On a monthly basis, carriers in the trade have worked to prevent additional southbound slots with the average for 2016 marginally below that of 2015. There were eight missed voyages across the seven southbound services in February, which meant that the available slots were only 2.5% higher than in the same month last year.
March 2017 schedules indicate that capacity will not be altered much from February, but because March 2016 saw a significant injection of slots the annual comparison this month will be an estimated -8%, the consultancy explained.
A combination of improving demand through the second half of 2016 and generally reduced capacity has helped southbound ship utilization rise from a low of 63% in February 2016 to nearly 90% in October. While load-factors have since dropped off to the mid-70% range, the better market conditions have allowed carriers to raise spot rates.
Representative Shanghai to Durban spot rates as published by Drewry's Container Freight Rate Insight have gone from a series-low (started end-2009) of USD 840/40ft in June 2016 to reach a 26-month high of USD 2,250/40ft in January 2017.
To ensure the current momentum in spot rates, carriers are advised to resist adding too much capacity.