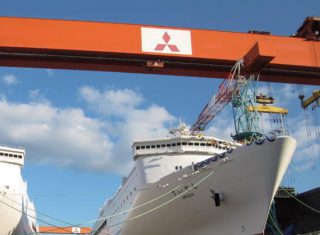 Japan's Mitsubishi Heavy Industries (MHI) is considering to restructure its shipbuilding activities and enter local partnerships due to a low demand for new ships, Bloomberg reports.
The decision about the restructuring is likely to be announced in July, Bloomberg cited Eiji Matsubara, MHI's spokesperson, as saying.
In October 2016, MHI revealed plans to cut production of large passenger ships amidfinancial losses accrued from the construction of Aida Cruises two ships, AIDAprima and AIDAperla.
What is more, MHI's move is said to be triggered also by a plunge of 80 percent in new shipbuilding orders recorded last year as ship owners refrained from ordering amid tonnage oversupply.
MHI also unveiled plans in late-August 2016 to launch discussions toward forming new alliances with three compatriot shipbuilders – Imabari Shipbuilding, Oshima Shipbuilding and Namura Shipbuilding.
With this move, MHI said it would integrate strengths in shipbuilding technology and engineering with the three partners' manufacturing capabilities and cost competitiveness, boosting ship development capabilities, enhancing negotiation response, and enabling further cost reductions.