Dublin is the best destination in the European Union for London-based bankers forced to move after Brexit, according to an index of 15 cities compiled by a relocation company.
Though Ireland tied for the highest top income tax rate, at 52 percent, it benefits from being the only other English-speaking destination in the EU and the cost of renting a flat in Dublin is markedly cheaper than in Paris, Frankfurt or Luxembourg, Movinga said on its website. Amsterdam is the next-best destination for Brexit exiles, while Frankfurt languished in sixth place and Paris in ninth, below Valletta in Malta and Brussels, the index showed.
Banks will begin the process of moving jobs out of the U.K. soon after Prime Minister Theresa May starts the clock ticking on the two-year negotiation period to leave the EU, expected on March 29. Dublin has emerged as one of the favorites for London-based banks seeking uninterrupted access to the bloc post-Brexit, with Standard Chartered Plc, Barclays Plc and Bank of America Corp. likely to choose the city for their new EU hubs.
Movinga's index is weighted for a range of other variables including the number of Michelin-starred restaurants and Burberry shops to the cost of an evening cocktail.
"Everyone is talking about cities like Paris and Frankfurt preparing for an influx of banking industry workers due to Brexit," said Finn Hänsel, managing director of London-based Movinga. "But other cities like Dublin, Valletta, Luxembourg and Amsterdam may actually be better equipped to make these workers feel happy and at home."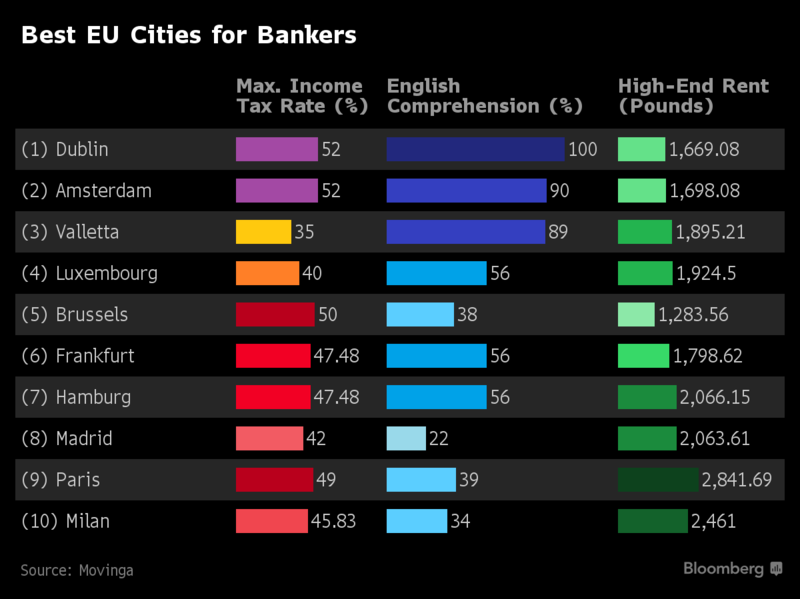 While Dublin may be the best destination for bankers and their spouses by Movinga's measure, their employers seem to be giving weight to other factors. Frankfurt is shaping up as the top pick for many of the biggest international banks, including Goldman Sachs Group Inc. and Citigroup Inc. The German city has a financial ecosystem featuring Deutsche Bank AG, the European Central Bank and BaFin, one of the only EU regulators with experience overseeing complicated derivatives trading.
In consulting firm Z/Yen Group's index of global financial centers, Dublin came in 31st place in September, up from 39th in March. Frankfurt was 19th and Paris 29th. London came in first.
Source: Bloomberg