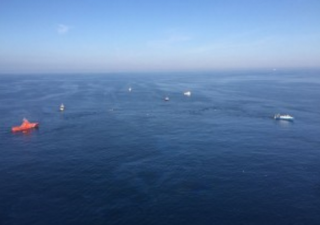 Spanish Maritime Safety Agency (Salvamento Maritimo) is searching for two crew members of a fishing vessel that went missing after the collision between a tanker and the boat off Barcelona on March 20.
The 2014-built tanker Midvolga 2 collided with the fishing vessel El Fairell. As a result, the boat sunk three miles from the Port of Barcelona to a depth of about 160 meters.
A man from Morocco and another one from Senegal, both in their thirties, are missing, while two of the four crew members were rescued, Salvamento Maritimo said.
The agency has launched a surface search operation. In addition, it deployed a rescue vessel and an underwater robot to carry out the inspection of the boat.
The Maritime Captain of Barcelona has ordered the Midvolga 2 to remain in the port until the investigation into the incident is completed.