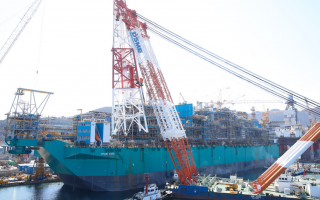 Labor union of the South Korean shipbuilder Daewoo Shipbuilding & Marine Engineering (DSME) is ready to accept proposed wage cuts for workers, proposing talks with the government, the company's management and creditors, which are aimed at finding a way to save the financially troubled shipbuilder, Yonhap News Agency reports.
The announcement comes a day after DSME's creditors unveiled a new restructuring plan for the company, which includes KRW 2.9 trillion (USD 2.6 billion) of fresh funds.
Creditors including Korea Development Bank (KDB) and Export-Import Bank of Korea (KEXIM) have devised a restructuring plan which sets out three key principles – debt restructuring should come first, financial assistance should follow later, and all stakeholders should bear a burden of losses.
The funds will be provided to DSME only if all stakeholders involved agree on debt restructuring, and the shipbuilder carries out intensive self-rescue efforts.
According to the creditors, DSME will have to cut 25 percent of its personnel costs and reduce its workforce by 1,000 workers.
Without the financial support from the banks, DSME is likely to declare bankruptcy, Yonhap cited the Financial Services Commission (FSC) as saying.
The shipbuilder's financial results for 2016 show that DSME reduced its full-year loss to KRW 2.7 trillion (USD 2.4 billion) from KRW 3.3 trillion (USD 2.9 billion) seen in 2015.
The company's operating loss was also reduced and amounted to KRW 1.6 trillion in 2016, against an operating loss of KRW 2.9 trillion recorded a year earlier.
DSME managed to trim its loss having committed to a stringent self-rescue plan that entailed disposal of its non-core assets, such as its IT business, as well as its buildings and floating docks with a total worth of around KRW 500 billion.