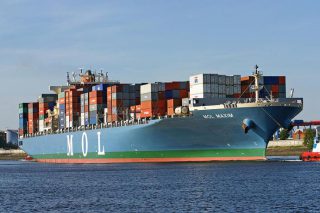 Japanese shipping major Mitsui O.S.K. Lines has booked an extraordinary loss worth JPY 20.5 billion (USD 183 million) for the fourth quarter of FY2016, the company said in an announcement.
The impairment loss on fixed assets in containership business, namely vessels, is ascribed to low spot freight rate market despite showing an improvement to a certain extent.
The company projected net income in its consolidated business outlook for FY2016, which was announced on January 31, 2017, considering the possibility of the above-mentioned extraordinary loss. Therefore, the impact on the full-year consolidated business outlook for FY2016 is minimal, MOL added.
MOL also issued a revised forecast for extraordinary loss for fiscal year 2016 for its dry bulker business, saying that it expects to record a greater loss due to structural reforms and cancellation of charter-in contracts for its operated vessels and transfer of its remaining charter-in contracts to the company.
The projected loss caused by the cancellation and transfer of charter-in contracts by MOLBC is increased by JPY 6.9 billion.
On the other hand, MOL added that the operating income/loss and ordinary income/loss show signs of improvement due mainly to a currently improving spot freight market in the containership business.
The company said it would announce the full-year consolidated financial results for FY2016 on April 28 after the scrutiny process.
Separately, the Japanese shipping giant said that it plans to apply for the cancellation of its listing on the Nagoya Stock Exchange to reduce costs and back-office activities for multi-listing since it considers the trade volume of its common shares on the Nagoya Stock Exchange to be de minimis.