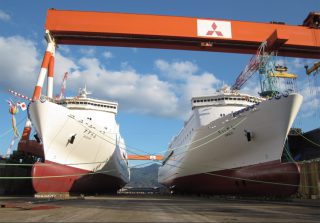 Japanese shipbuilding company Mitsubishi Heavy Industries (MHI) has reached an agreement in principle with its compatriot counterparts Imabari Shipbuilding and Namura Shipbuilding related to the ongoing discussions focused on forming alliances in the commercial ship business.
Discussions toward concluding a similar alliance with Oshima Shipbuilding continue, MHI said.
MHI unveiled plans in late-August 2016 to launch discussions toward forming new alliances with three compatriot shipbuilders – Imabari Shipbuilding, Oshima Shipbuilding and Namura Shipbuilding.
The agreements are said to be targeted at achieving sustained growth "through the pursuit of mutually complementary, synergy-generating alliances while respecting each partner's independence, in an overall effort to strengthen the competitiveness of all alliance partners in the global marketplace."
The newly signed basic agreements cover development of new ship designs and innovative technologies, sharing of designs and workforce, standardization of engineering tools and fitting equipment, and flexible application of the partners' construction capabilities.
MHI added that it expects to conclude with each partner separate contracts stipulating how the alliance will be specifically applied to actual business operations.
"Through the conclusion of the new alliances, MHI is looking to enhance business competitiveness around its core engineering strengths cultivated over many years, particularly in the areas of energy-saving and environmental technology. In the process, the company aims to further boost the presence of Japanese shipbuilders in the dramatically changing global shipbuilding industry,"the shipbuilder concluded.
In October 2016, MHI revealed plans to cut production of large passenger ships amid financial losses accrued from the construction of Aida Cruises' two ships, AIDAprima and AIDAperla.
The losses have incited the shipbuilder to consider restructuring of its shipbuilding activities. Further details on the restructuring plan are expected to be revealed in July.
The move toward tightening of ranks comes as shipowners refrain from new orders amid ordering glut in an already oversupplied market. The tonnage surplus has pushed down freight rates across the shipping market forcing both shipping companies and shipbuilders to consolidate in order to survive.