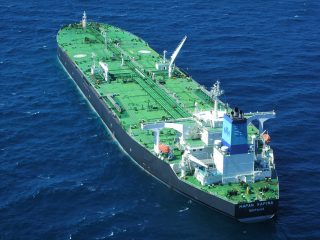 South Korea's financially troubled Daewoo Shipbuilding & Marine Engineering (DSME) has won a contract to build three very large crude carriers (VLCCs) for the Greek shipping company Maran Tankers, part of the Angelicoussis Shipping Group.
The contract for the three 318,000 dwt tankers is valued at USD 250 million, DSME said.
The 336-meter vessels will be delivered throughout 2018 and will feature high efficiency engines and the latest fuel saving technology to meet the IMO environmental regulations.
This is the third time the Angelicoussis Group has placed an order for new vessels at DSME in the past eleven months. In June 2016, the company ordered two LNG carriers and two VLCCs, which was followed by an order for one LNG FSRU in December 2016.
The Angelicoussis Group currently has 18 vessels under construction at DSME's shipyards in South Korea and Romania.
The new order comes shortly after DSME's creditors announced a plan to inject further USD 2.6 billion into the struggling company as part of the restructuring process.
However, the new funds will be provided only in return for stakeholders' agreement on debt restructuring and DSME's intensive self-rescue efforts.
If stakeholders fail to agree on voluntary debt restructuring, DSME would turn to an alternative solution of so-called 'Pre-packaged Plan' (P-Plan) with creditors' consent.
Under the P-Plan, creditors are required to pre-arrange and submit a rescue plan in advance to a company's filing for court receivership, and then a court would force a swift debt restructuring so that creditors can inject fresh capital in accordance with their plan for rehabilitation.