Athens resident Spiros is among the reasons Greece is having a hard time reaching a bailout accord with creditors.
The 82-year-old is one of about 2.7 million pensioners likely to face a cut in monthly payments for the 12th time since the debt crisis in 2010, as part of the measures required for the disbursement of the next tranche of emergency loans. The government of Alexis Tsipras wants any new cuts in pensions to be phased in gradually and not be put in place from 2019 — an election year — as creditors demand. It says it wants to protect pensioners like Spiros, who account for more than a quarter of the country's 10 million population and are already bracing for higher health insurance costs and a lower income-tax-free threshold.
The government says a brutal cut will further erode the purchasing power of pensioners and worsen an economy that has shrunk by a quarter in the past seven years and left more than 23 percent of the work-age population without jobs. Spiros, who takes home a pension of 1,200 euros ($1,281) a month, is supporting not just himself and his wife, but two adult children, their spouses and a grandchild.
"I am struggling to meet my obligations," he said, declining to provide his last name because he fears he'll embarrass his family. "So far I've been able to pay all my taxes and bills, but I don't know if I can keep doing it."
Differences over pensions and labor-market reforms are the biggest sticking points in Greece's talks with creditors to unlock bailout funds. Effie Achtsioglou, the minister in charge for both portfolios, along with Finance Minister Euclid Tsakalotos, may hold another round of crisis negotiations in Brussels on Tuesday, in a last-ditch effort to break the deadlock before a meeting of euro-area finance ministers in Malta on Friday.
The discussions in Brussels could be instrumental in reaching an agreement, but the best possible outcome from the finance ministers' meeting would be to pave the way for creditor institutions to return to Athens for more talks, an EU official said on Tuesday. And while he didn't exclude the possibility of Greece having enough cash to make summer debt payments, the official, who asked not to be named citing policy, said that eventuality would be an accounting exercise that would harm the economy.
Different Approaches
Perennial acrimony over the terms attached to the emergency loans that have kept the country afloat since 2010 threatens to derail a much-anticipated economic recovery this year, and raises doubts about Greece's ability to meet debt payments due this July. While there has been "a lot of progress," there will be no agreement on April 7, Jeroen Dijsselbloem, who chairs meetings of euro-area finance ministers, said on March 31. "That's too early."
Europe has become impatient with Greece as the region prepares for Brexit and the threat from emerging populist movements. The failure to reach an accord stems in part from the conflicting political interests of the two sides — Tsipras doesn't want to face a scheduled general election in 2019 at the same time as pensioners take a cut of as much as 30 percent in their monthly payments. Creditors worry that if the plan is put in place after 2019, a new government that's not a signatory of the accord might not implement it.
The International Monetary Fund, backed by Greece's euro-area creditors, is pushing Athens to save 1.8 billion euros, or 1 percent of gross domestic product, from pension cuts. Greece spends more than 13.3 percent of its GDP on old-age pensions, the highest proportion in the European Union, Eurostat figures show.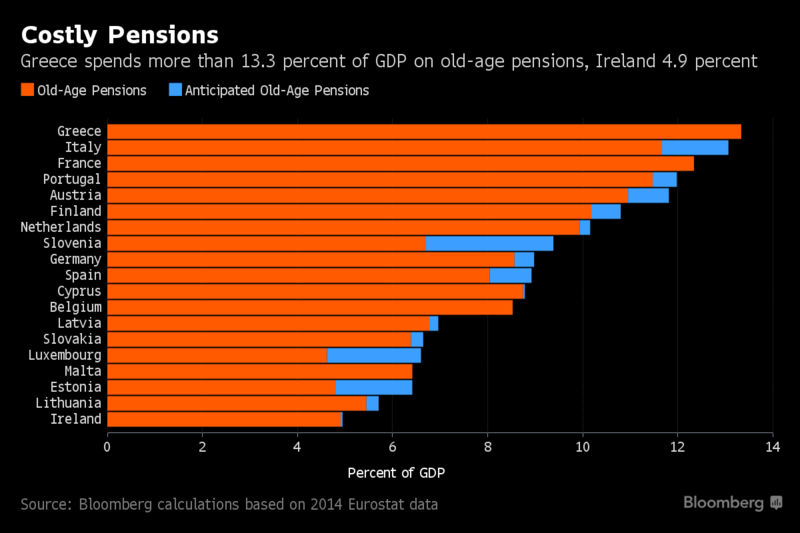 Greece, which crossed what it once characterized as a red line and accepted the need for pension cuts, is asking creditors to give the country more time to see how measures agreed to last year work before embarking on anything new.
Supporting Generations
The country hasn't yet put in place a proper social welfare system, making pensions the de facto safety net for many families, supporting several generations. A survey in January showed that 49 percent of households relied on pensions as a primary source of income. Further cuts in pensions has become a thorny issue to sell at home as pensioners use their ever-shrinking income to support jobless children at time when youth unemployment stands at more than 40 percent.
Take Panagiotis Papapetrou, for example. The 65-year-old retiree and his wife, who collectively take home a pension of 1,480 euros a month, support two grown children.
"Not only can we not afford any kind of entertainment, but we also have made cuts in our diet," he said. "We eat less meat and we seek to buy cheap goods."
The government points out that it has already done a great deal on the pensions front. Since 2010, Greek pensioners have lost more than 44 billion euros due to creditor-demanded reforms, the labor ministry says.
Never-Ending Story
Simplifying the pension system was a centerpiece of the program rolled out by then-Prime Minister George Papandreou's government after signing the country's first bailout in 2010. The reform was applied only to new entitlements, with successive cuts to existing pensions presented as temporary measures that might be reversed after the crisis, according to Platon Tinios, assistant professor at the University of Piraeus and visiting senior fellow at the London School of Economics.
Last year's reform ended this duality by abolishing the old system for determining pension entitlements. Still, Tsipras's government kept its promise not to further cut existing primary pensions by introducing a top-up. That top-up is now in the firing line. The IMF says the system places too high a burden on younger generations and that the link between contributions and benefits is too weak.
"The pension problem isn't technical, it's a matter of public dialog," said Tinios. "We need a substantial discussion acknowledging that we have less ability to pay, and that pensions have to correspond to what GDP is now, not what it was in 2008."
Meanwhile as the government quibbles over the numbers, some observers say Tsipras is just prolonging the pain. The difficulty he faces is to break the news to the likes of Nikos Atzinas. The 75-year-old pensioner who worked for 37 years before beginning to collect a pension, estimates the latest cut being demanded by Greece's creditors will leave him 200 euros poorer each month.
"Before the crisis, my total pension was 1,950 euros a month; now it's 1,101 euros and it's going to be around 900 euros when the new cuts are put in place," he says. "We have already minimized our personal needs. We only buy clothes and shoes when it's absolutely necessary."
Source: Bloomberg