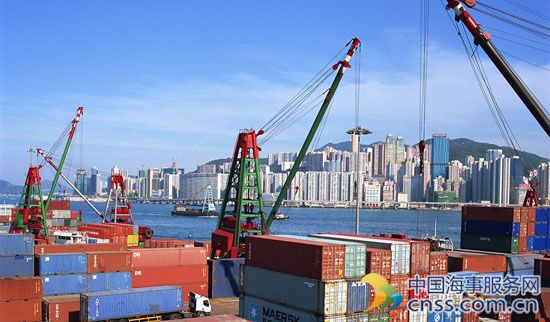 A crude-price spread that rules over the flow of supply to the world's biggest oil market will probably favor producers outside the Middle East at least until OPEC meets next month.
The premium of Brent, the benchmark for oil from Europe to Africa, over Middle East marker Dubai crude may stay between $1 and $1.50 a barrel during April and May, according to a Bloomberg News survey of 4 traders and an industry consultant. That's more than 50 percent smaller than the average over the two months last year, data from PVM Oil Associates show.
A narrow spread means light, sweet grades of crude that are typically linked to Brent are more affordable to Asian buyers versus the heavier, sour varieties that use Dubai as a benchmark. As Middle East producers such as Saudi Arabia shoulder a majority of OPEC's output cuts to ease a global glut, the region's supply is turning costlier. Meanwhile surging light oil flows from the U.S. and Atlantic Basin areas that aren't taking part in the production curbs is making those cargoes relatively cheaper.
"The light crude market in Asia is currently flooded with supplies," said Nevyn Nah, a Singapore-based analyst at industry consultant Energy Aspects Ltd. "There are inflows of arbitrage oil from the Atlantic Basin at a time when Asian refineries are undergoing peak maintenance. This is further exacerbated by extra supplies from an unplanned outage in Qatar, and refinery works in Vietnam."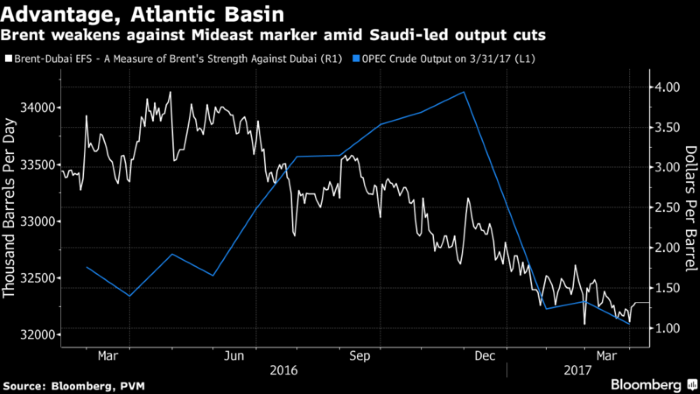 The Brent-Dubai exchange for swaps, a measure of the difference in prices between the two benchmark crudes, could shrink to below $1 a barrel if global supplies of light oil rise, according to three of the traders who were surveyed. The EFS last fell under that level in August 2015. It was at $1.32 at 7:01 p.m. in Singapore on Thursday.
A relatively narrow EFS and lower freight rates are attracting Atlantic Basin crudes to Asia, JBC Energy said in a report last month. The industry consultant estimated that more than 5 million barrels a day on average of the region's supplies may have come to Asia in the first quarter, 20 percent higher than last year and 34 percent higher than in 2015. China became the biggest buyer of U.S. crude in February, and is set to import record amounts of crude oil from West Africa this month.
The Organization of Petroleum Exporting Countries began production cuts on Jan. 1 in a bid to reduce swollen global inventories and bolster the price of oil, which continues to trade at half the levels of its 2014 peak. Some members of the group as well as Oman have backed extending production cuts beyond June. OPEC ministers will meet May 25 in Vienna to decide whether to extend the deal.
Source: Bloomberg