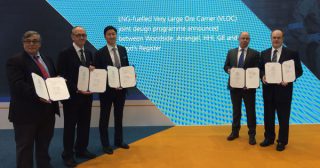 Hyundai Heavy Industries, Lloyd's Register, Woodside Energy, Anangel Maritime Services and General Electric Company revealed their intention to commence work on a joint project aimed at exploring the sustainability of technologies for large ships, such as very large ore carriers (VLOCs).
This was announced at Gastech 2017, a gas and LNG exhibition and conference being held in Japan from April 4 to 7.
The first stage of the joint design project encompasses conventional dual-fuel powered VLOC incorporating proved technologies, while at the next stage the parties will investigate the design and benefits of next-generation LNG-fuelled propulsion systems.
A program of work has been agreed by the parties to address design, construction and operational aspects including LNG bunkering. The aim is to create a new generation of cost-efficient, safe, reliable and environmentally optimised design for large ore carriers, according to Lloyd's Register.
Since the International Maritime Organization (IMO) nitrogen oxide and sulfur oxide emission limitations have been introduced and developments in the global supply of gas increased, there is a need for ship designs to evolve to provide further alternatives to traditional oil-fuelled designs, Lloyd's Register said in a statement.
In this regard, the ship propulsion design burning natural gas is considered as the most favorable option and the adoption of gas storage, supply and propulsion technologies is not only environmentally friendly but also provides possibilities for cost-efficient design and operation.